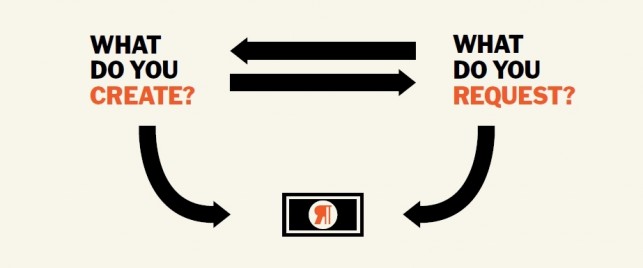 MoMA Studio: Exchange Café honors the power of reciprocity. From everyday barter practices to artistic exchange systems, I aim to make legible a relationship between works in MoMA's collection and contemporary movements to reclaim the commons. As a cofounder and collective member of barter networks OurGoods.org and TradeSchool.coop, I have been working on infrastructure for critical exchange since 2008.
For
Artists Experiment
, I went looking in MoMA's collection for 20th-century precedents to the one-on-one practices of reciprocity that inspire me to heal, dream, and struggle against stagnant wages and austerity measures in 2013. I found artworks, neither singular nor static, that revolve around voluntary, reciprocal commitments.
Rather than sitting alone on a pedestal, these artworks embrace dialogue and labor. Meaning is made in action, as two people gather, build, and distribute ideas. These works refuse to separate production from "objecthood"; the life cycle of labor and materials form the meaning of the work. MoMA Studio: Exchange Café is dedicated to cooperative, alternative, and non-market economies; MoMA Studio: Exchange Café asks:
  What exchanges are (im)possible here?
In the coming weeks, I will be blogging on the MoMA Talks tumblr about the cooperative, alternative, and non-market economies that support my work in general, and MoMA Studio: Exchange Café in particular. I do not see art making as separate from the political economy. The meaning of any work emerges in dialogue as hundreds of people labor to make art, see art, distribute art, recycle art, exchange art, sell art, borrow art, steal art, forget art, share art, and throw art away. Check MoMAtalks.tumblr.com each week for updates about the economies that underpin MoMA Studio: Exchange Café.
Please join me, MoMA educators, and our studio facilitators Kenneth Edusei, Forest Purnell, Amelia Winger-Bearskin, Carla Aspenberg, Lauren Melodia, and Tychist Baker at MoMA Studio: Exchange Café, May 24–June 30, Thursday, Saturday, and Sunday, 1:00–5:00 p.m., Friday, 1:00–8:00 p.m. We look forward to welcoming you!