The Department of Education continuously seeks new ways to increase visitor engagement with art. It's exciting to brainstorm ideas with colleagues, test them out, and see the most promising ideas put into practice. One idea we recently tested is called the Roving Gallery Guides. This series of in-gallery interventions debuted this summer, piloted by a number of MoMA's full-time education staff. The goal of Roving Gallery Guides is to help visitors connect with art in new ways and to offer a more participatory experiences in the galleries. These brief pop-up encounters are designed for visitors who want to get information about works of art in a more customized way than didactic texts or audio guides allow, but are not necessarily interested in committing to a formal tour. The conversational format was meant to provide visitors with different ways to think about and look at art, while encouraging them to offer their own interpretations. Nine interventions took place over the summer, and all were extensively documented through observational notes, photographs, and reflections provided by participants as well as educators.
Our biggest takeaway?
The Roving Gallery Guides interventions were a lot of fun—not just for visitors, but for the staff who participated. There was something special about seeing visitors' reactions to these unexpected (and unadvertised) encounters. Visitors sketched, wrote poetry, completed challenges drawn from a box (e.g. "write a story about a work of art"), recited Gertrude Stein poetry aloud to onlookers, and used all of their senses in The Abby Aldrich Rockefeller Sculpture Garden. Some discovered details about Cindy Sherman's life and learned about artistic techniques from curatorial walk-through notes, some struck a pose in front of their favorite works of art (and received a Polaroid portrait for their efforts), while others played with a range of tactile materials while learning about Ellsworth Kelly's Sculpture for a Large Wall.
Here's how some visitors responded: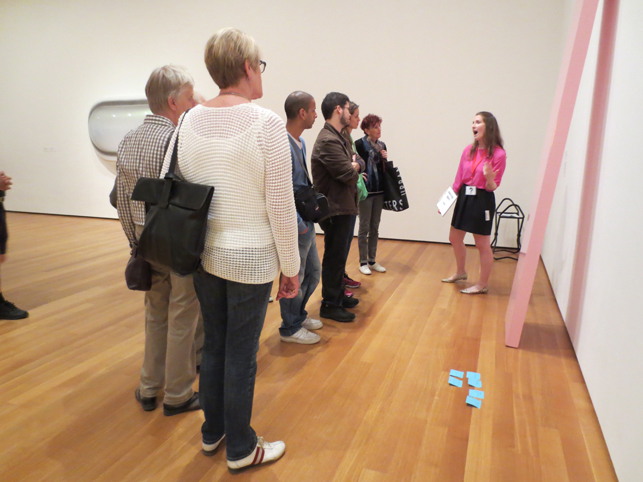 "I never would have got any of this just from looking."
"It looks like the counter in an ice cream parlor."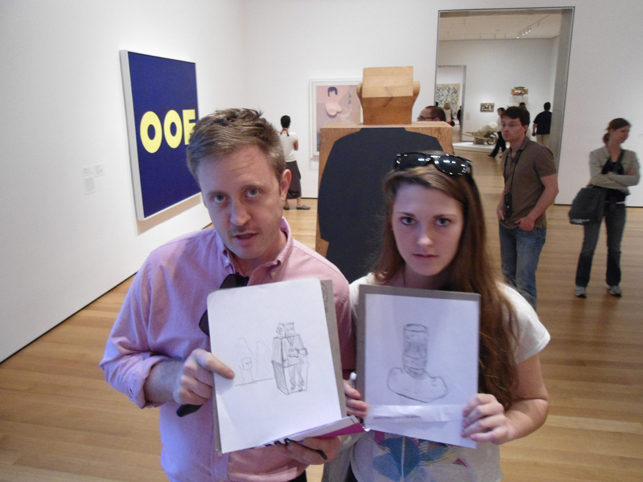 "So, when I return I'll see it on the wall, right?"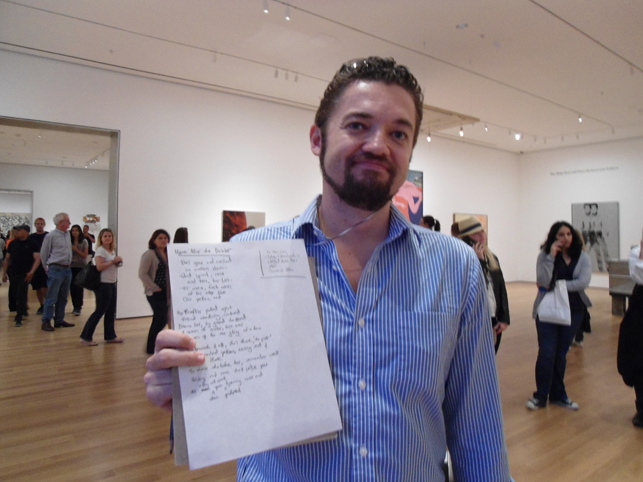 "…I feel quite adequately studied and engaged with the works on display now, as well as pleasantly humored…. Keep helping people connect, feel and experience…."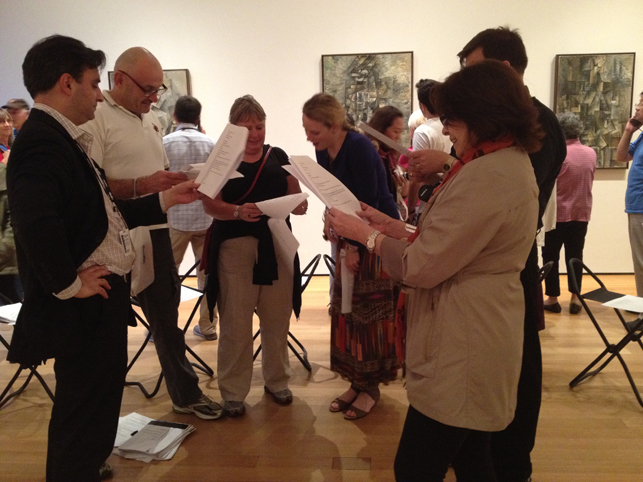 Visitors from Australia, South America, and New York—all were proud of themselves for participating.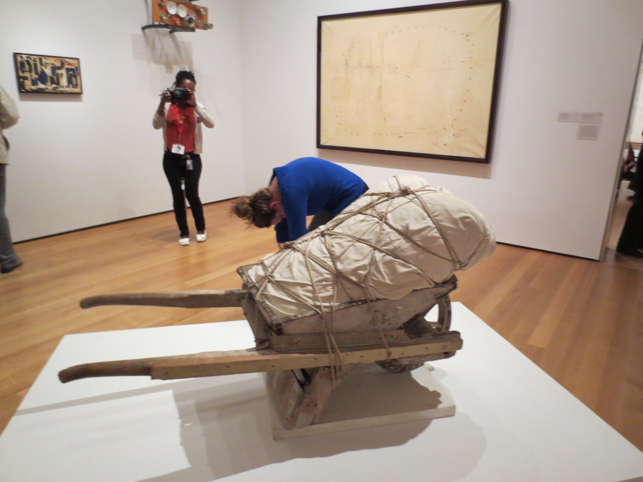 "I think the artist uses a little bit of humor but it's also like he is trying to cover something."
These experiments helped the Department of Education pinpoint certain locations and works of art that could benefit from these strategies. It also helped us generate a list of "better" practices for successfully carrying out these interventions in the gallery. Perhaps most surprisingly, we realized that: 1) people often appreciate being approached and engaged, though we feared seeming over-eager, 2) adults, not just children, like learning through tactile and art-making experiences, 3) setting up an intervention in one location worked better than moving around, and 4) language differences weren't as big of a barrier as we had originally imagined.
Based on observations and documentation, it was clear that experiments in roving were a success. This fall, MoMA's freelance educators submitted proposals for interventions they'd like to carry out. After reading those over and hearing their enthusiasm for this new approach to in-gallery teaching, I'm filled with anticipation for what they have in store.  What, where, and when?  That's all top secret (psst…unless you follow @MoMAlearning or @MoMATalks)…
…but next time you're at MoMA you may encounter a Roving Gallery Guide. If you do, let us know what you think!