In my 15 years as a museum educator, I have experienced many transformative moments in teaching. In recent years, technology—notably online resources, webinars and social media—have had a profound influence on how I work with teachers and students.
When I began working at MoMA, in 2005, our printed educator guides were widely used by teachers, but these resources were restricted by format to linear lesson plans printed in limited quantities. In 2006, as part of an effort to reach a wider audience, we launched Modern Teachers Online, a website that allowed users to search and sort the educator guides based on their interests. Still very much a repository for the content of the printed guides, the site did not take advantage of the proliferation of multimedia resources available on MoMA.org and beyond—resources that I myself had begun to integrate into my teaching. After much reflection and assessment, a team from Education and Digital Media began planning a more dynamic platform.
Our process began with listening to our audience. We held a series of conversations with teachers and colleagues to get their feedback on our existing teacher resources. Many of the things they expressed supported what we already knew. For example, teachers frequently turn to MoMA for printed and digital images of artworks to use in their classrooms. And although they valued the lesson plans in the printed guides, more often than not, they deconstructed, rearranged, and supplemented them with multimedia content—often about artists' materials and processes—tailoring them to the needs and interests of their students.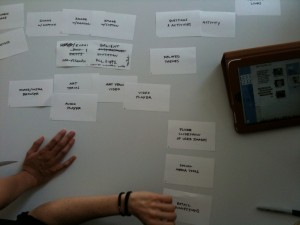 Though our guides were written expressly for classroom teachers, my experience teaching the works in MoMA's collection through thematic frameworks suggested that this approach to modern and contemporary art wouldbe engaging to a much broader audience. As an experiment, we transformed the content of one educator guide—stripping out classroom-specific language and supplementing the text with multimedia resources—and put it online to conduct user testing with K–12 teachers and independent lifelong learners. The feedback we received from both groups prompted us to develop an online destination where teachers, students, and lifelong learners would all feel welcome, and where anyone could find downloadable, customizable tools for however they chose to teach and learn.
The result is MoMA Learning. For me, the multiyear process of research, user-testing, writing, and design was challenging, but extremely rewarding. It has given me new insights into the digital world that I would never have gained otherwise. I hope that you will visit MoMA Learning regularly, because over the next few months we will add new content, functionality, and resources to support self-guided learning.
We want to hear from you, so please share your feedback and let us know how you're using MoMA Learning and its content in your teaching or learning.  We also welcome your thoughts through any of our social networking channels. We're on Facebook, or follow @momalearning on Twitter.