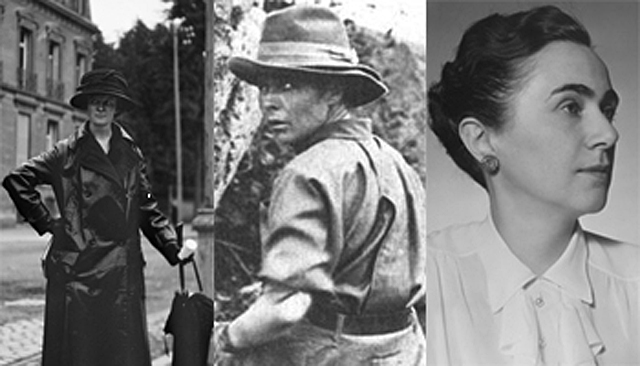 As the Art Libraries Society of North America (ARLIS/NA) intern for 2012, I am fortunate to be spending time at all three New York Art Resources Consortium (NYARC) libraries. The Frick Art Reference Library and those of the Brooklyn Museum and The Museum of Modern Art (MoMA) share many attributes. One of these is the important role that collecting expeditions played in increasing the holdings of each institution. Interestingly, in the early 20th century these libraries supported major expeditions that were led by women. These bold travelers, coming from a variety of backgrounds and socioeconomic classes, were ahead of their time.
Helen Clay Frick: Frick Art Reference Library
Helen Clay Frick journeyed to Europe in 1920 following the death of her father, Henry Clay Frick, who was the founder of The Frick Collection. She intended to visit sites that were the subjects of his beloved painting collection as well as private residential museums in an effort to honor her father's memory and to learn more about museum management. While she was in England, Frick was introduced to Robert Witt and his Library of Reproductions, which is now The Witt Library at the Courtauld Institute of Art in London. Witt and his wife, Mary, collected photographs, postcards, and other images of works of art that efficiently served the research and reference needs of scholars, dealers, and "all those concerned with paintings" (Knox). The idea enchanted Frick, who had finally found a suitable way to erect a monument to her father and to leave her own philanthropic mark on the world. On her return to New York, she founded the Frick Art Reference Library.
In the early 1920s Frick became increasingly interested in Italian art. She traveled to Italy four times between 1923 and 1928. "They were methodological adventures, organized so [that] early Italian paintings and frescoes never before recorded or photographed could be found and documented" (Sanger). Guidebooks and early inventories were used to locate potential sites of neglected and forgotten works of art. Many of the pieces discovered were later moved to museums for preservation and public access. Along with her sketches and notes, the photographic reproductions collected on these expeditions vastly expanded the holdings of her library.
During World War II, the staff of the Library worked with the Committee of the American Council of Learned Societies for the Protection of Cultural Treasures in War Areas. The Library's collections were used to "compile lists and maps of the monuments, fine arts, and archives to be protected and preserved in the theaters of war" (Knox). It can be assumed that Helen Clay Frick's Italian expeditions played a major role in these operations.
Delia J. Akeley: Brooklyn Museum
Delia J. Akeley went on her first expedition to Africa in 1905, accompanying her husband, the famed taxonomist Carl Akeley, Jr. They hunted big game for display at the Chicago Field Museum. On this and subsequent expeditions, Akeley learned how to preserve skins in the field, hunt small game for food, and survive life in the African bush. She went on five African expeditions in her lifetime, three led by her husband and two that she organized.
In 1923 the Brooklyn Museum announced an African expedition led by Delia Akeley. Her sole companions were Africans she selected and trained as assistants in the field. She theorized that "if a woman went alone without arms or escort, and lived In the villages she could make friends with the women and secure authentic and valuable information concerning tribal customs and habits" (Akeley). This expedition led Akeley through previously unexplored regions of the Belgian Congo, where she made contact with the notoriously shy Pygmy tribes. Having proved her theory, she returned to New York in 1925 with many cultural objects and insights into the Pygmies' way of life. She recognized the opportunity her contact with the tribes afforded for ethnological research and quickly made plans to return and live among the Pygmies.
Akeley traveled to Africa again in 1929 but was forced to return to New York only five weeks later because of a torrential rainy season. In this short time, however, she was able to collect 5,000 feet of film and 1,500 photographs, learning more, she said, "than on all my other expeditions combined" (Olds). She did not keep a diary on this expedition, so little is known about her day-to-day experiences. The New York Times ran a full page spread of her photographs on her homecoming in 1930. Although this journey proved to be her last expedition to Africa, she continued to lecture about her experiences while settling down to life in the United States.The artifacts and nature specimens she collected on her expeditions are housed in major museums across the Northeast and Midwest, and her ethnological work, especially that concerning women, is still some of the richest of its kind. She inspired other women to explore beyond their boundaries, and her open-minded approach to travel in Africa significantly influenced the general perception of the continent.
Iris Barry: The Museum of Modern Art
Iris Barry was the first curator of the Film Department, which is now known as the Department of Film, at MoMA and the founder in 1935 of its Film Library, now housed at MoMA's Celeste Bartos Film Preservation Center. Before coming to New York from London, she had been a founding member of the London Film Society. Barry felt that motion pictures were an art form and believed that film should be studied the way sociologists and art historians studied other cultural products. This was a new idea, and Hollywood's motion picture studios took some persuading when it came to the medium's credibility as fine art; to them, films were simply a profitable product. However, through years of advocacy and museum programming, Barry convinced the studios that "by depositing prints of their works in the library they could both clean out their vaults and build an enduring legacy." (Wasson)
In 1935, Barry traveled to Hollywood to meet with studio representatives, producers, actors, and directors to solicit donations. She had already established an exchange program with European studios, trading duplicate negatives or prints for foreign films. She held an event at the Pickfair Mansion for studio owners, actors, and directors, at which she gave a presentation on the changes that film had already undergone and the possibility of preserving the new art form from its beginnings. Though well received by the press, the event did not garner many donations; this expedition led her to the realization that copyright issues were the key to expanding her library. She returned to New York and appealed to the studios' lawyers, who eventually determined that "after two years a film's commercial run would no longer be threatened by the Film Library's project," thus clearing a path for rapid library expansion (Wasson).
Barry traveled throughout Europe and the Soviet Union in 1936 "to acquire original, uncensored, undamaged prints representative of national production histories" (Wasson). She visited cities that had established or were planning to implement a film archive, like the one she was assembling for MoMA. Her timing was impeccable, and many films were donated because of rising anxiety over the films' safety during the imminent war with Germany.
So successful was the initial assembling of the film collection in 1935 and 1936 that the Academy of Motion Pictures Arts and Sciences commended MoMA in 1937 with an award "for its significant work in collecting films . . . and for the first time making available to the public the means of studying the historical and aesthetic development of the motion picture as one of the major arts."
In a time not known for its independent women, Frick, Akeley, and Barry were able to travel the world on their own terms. Their contributions to the Frick, Brooklyn Museum, and MoMA helped develop museum and library collections that were rapidly growing in the 1920s and 1930s. To me, they are inspiring examples of what one person can achieve and how that can continue to resonate with us today.
Quoted text from: Delia J. Akeley. Jungle Portraits. The Macmillan Company: New York, 1930; Katherine McCook Knox. The Story of the Frick Art Reference Library: The Early Years. Frick Art Reference Library: New York, 1979; Elizabeth Fagg Olds. Women of the Four Winds. Houghton Mifflin Company: Boston, 1985; Martha Frick Symington Sanger. Helen Clay Frick: Bittersweet Heiress. University of Pittsburgh Press: Pittsburgh, 2008; Haidee Wasson. Museum Movies: The Museum of Modern Art and the Birth of Art Cinema. University of California Press: Berkeley, 2005.
For more information about MoMA Library research projects and activities, please visit The New York Art Resources Consortium (NYARC) website. NYARC consists of the research libraries of the Brooklyn Museum, The Frick Collection, and The Museum of Modern Art. Visit Arcade, NYARC's catalog, for your art research needs.