Five for Friday, written by a variety of MoMA staff members, is our attempt to spotlight some of the compelling, charming, and downright curious works in the Museum's rich collection.
When I first read this article about the world's most beautiful public pools, I couldn't help but do a little daydreaming.
While New York City offers some adequate swimming options (depending on who you talk to), I was surprised to learn that MoMA had so many swimming pool–related artworks in its collection. Swimming pools, after all, aren't exactly "modern"—the first pools devoted to the activity date back to the Romans—although the ones that always come to my mind are the perfectly sleek, mid-century designs that are a staple of Richard Neutra's houses.
Whatever the inspiration, I find these works refreshing. Dive in!

1. Henri Matisse. The Swimming Pool. 1952
The largest of Matisse's cutouts, this nine-panel, nearly 54-foot-long mural, which captures the movement of water and bodies in a swimming pool, was originally created to adorn the walls of the artist's own dining room. Confined to a wheelchair at the time of its making, Matisse said of the work, "I have always adored the sea, and now that I can no longer go for a swim, I have surrounded myself with it.

2. Edward Ruscha. Find Contact Lens at Bottom of Swimming Pool. (1975)
Like parking lots and gasoline stations, Ed Ruscha's fascination with swimming pools has been documented through his photographic projects. In this pastel drawing, however, Ruscha takes on the swimming pool's metaphoric qualities.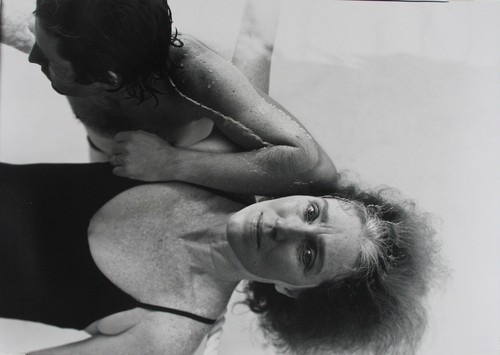 3. JoAnn Verburg. Untitled (Sally + Ricardo). 1982
Although the swimmer in this photograph offers a pensive and intense gaze, one can also feel the weightlessness of the subject's body while floating in calm waters.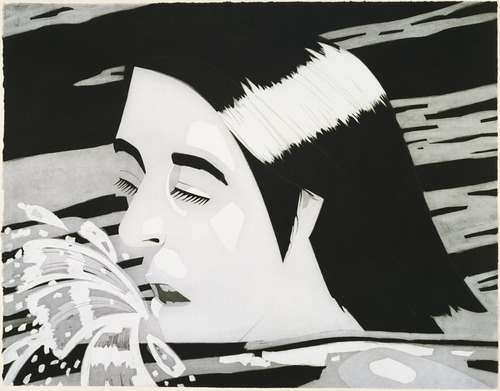 4. Alex Katz. The Swimmer. 1974
Not unlike Roy Lichtenstein's iconic Drowning Girl, Alex Katz's swimmer struggles to stay afloat, gasping for breath and with eyes closed to the viewer.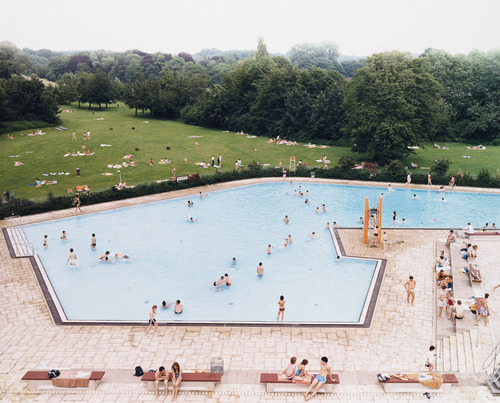 5. Andreas Gursky. Ratingen Swimming Pool. 1987
This relatively moderately scaled photograph of a public swimming pool is one of Andreas Gursky's most well-known images. Maintaining a calculated distance from the individual people in the frame, Gursky instead leaves us with a formal composition of angles and an astonishingly large depth of field.