Games are a hot topic in museums at the moment. Yet the intersection between art and games is old news. From Marcel Duchamp's chess obsession to Surrealist parlor games in the 1920s (see: Exquisite Corpse), to more contemporary projects like the hacked video game environments of artist/modder Cory Arcangel, artists have long explored the potential of games to shape social spaces, explore the makeup (and breakdown) of systems, and inject their practice with playfulness, surprises, and interactivity.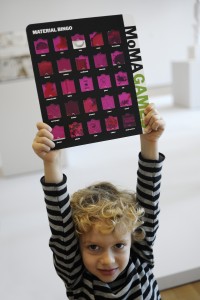 Museum educators have jumped into the sandbox, too, as ideas of learning and public engagement have slowly shifted from one-way teaching models like lectures to something more dynamic, responsive, and co-creative.
Without a doubt, museums and games share natural affinities: museums are free-choice learning environments that seek to engage people with complex ideas and challenging objects, in ways that are enjoyable and meaningful. Games are fun vehicles for building problem-solving skills and critical thinking.
Successful museum education experiences encourage multiple interpretations of works of art. Well-designed games allow for multiple strategies and ways to play.
Material Bingo at MoMA
So we've recognized the value of play and games for learning, but what have we been doing? MoMA's Department of Education has been testing the waters in increments. Last year, we partnered with seasoned game experts at the Institute of Play to develop a 10-week hands-on summer program where teens explored the intersection of game design and art making. Recently, we launched Material Bingo, the first in a series of MoMA Games for learning, looking, and engaging with the Museum's collection and architecture.
Material Bingo is an image-based, close-looking game designed for visitors of all ages, including families, adults, or anyone with keen eyes and an exploratory spirit. It takes as its starting point the familiar game of bingo, but instead of numbers, a player is presented with pictures of materials ranging from canvas, oil paints, and wood—to more "unconventional" materials used by artists, like plastic, fur and hair, and dirt. Printed on the back are instructions (in nine languages):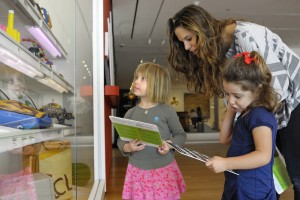 Look closely at the artworks in the galleries. What materials are they made of? Your goal is to find the materials pictured in the squares. When you find one, shut the window over that square. The first player to make a row of five closed squares across, up, down, or diagonally, wins the game!
Material Bingo is an experiment in how games can be used for learning and engagement at MoMA. One goal is simply to convey, with one glance at the bingo board, the vast possibilities for art-making materials in the world around us. Another goal was to transform the entire Museum into a game board—an arena of discovery (and playful competition) as visitors fan out in search of art and design objects made from these materials. It can be played alone or in groups. Regardless of who wins the round, all players are rewarded with their choice of three Material Bingo temporary tattoos.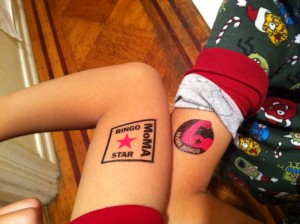 Material Bingo is available for check-out at the second floor volunteer information desk and in the Material Lab on the first floor of the Lewis B. and Dorothy Cullman Education and Research Building. Come out and play!
Want to learn more about how art and games play together? Don't miss the Contemporary Art Forum: Critical Play—The Game as an Art Forum, May 17–18 at MoMA. Participants include artists, curators, game designers, and scholars from around the globe. Track Twitter hashtag #MoMACriticalPlay now to get late-breaking updates and join the conversation.