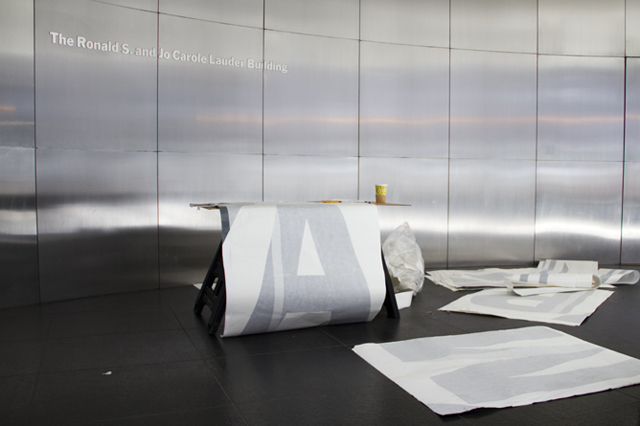 Most of my friends are seasoned New Yorkers who know their way around the city—where to find the best restaurants, sample sales, and live music—but whenever I invite them to see a film at MoMA with me, I hear, "Oh, MoMA shows film? I had no idea! What, like black-and-white art flicks?"
Amazingly, though MoMA has been collecting film for over 70 years, a lot of New Yorkers have no idea that there are two full-size movie theaters in its underbelly (plus a smaller theater in the Education and Research Building), with almost daily film screenings, and an endless range of film series and festivals showcasing brand-new films from around the world (quite often in full color, and sometimes in 3-D, my dear friends!)—including New Directors/New Films, which just opened to its 41st season last night. With the exception of New Directors/New Films screenings, films at MoMA are free with Museum admission or MoMA membership, which means you get to spend the money you would have spent on a ticket on a pre-screening cocktail at The Modern—the fanciest concession stand in town.
It's high time we got the word out, so last fall we set ourselves the task of promoting MoMA Film to a wider audience, beyond our members and my friends. But with a very limited advertising budget, what could we do? An online campaign? Posters on college campuses? One day, on my way to lunch, I stopped across the street from 11 West 53rd Street—the original MoMA building and current entrance to the film theaters—and it dawned on me: How would anyone know that we show film here? Maybe the solution was as easy as adding signage. Then I looked up at the glass facade above the entrance and suddenly realized that MoMA Film had the biggest marquee in town, and it was already backlit at night. We had just never thought to put up letters!
What started as a simple idea took months of preparation, and the unwavering commitment of many MoMA staff members. After countless e-mails and rounds of approvals, repeated measurements, a sudden expertise in light bulb technology, some expeditions into the crawl spaces behind the facade, and a lot of paperwork, I woke up at 5:30 a.m. on a Saturday for the installation. I have huge respect for the installers, who braved the cold and heights up to 40 feet for nearly 10 hours that day and still managed to get the almost life-sized letters onto the facade—straight and without misspellings. You can follow the process in this slideshow, or the time-lapse video below (in a New York–attention-span 15 seconds).
But even if you miss New Directors/New Films and its giant marquee (it will be de-installed a week after ND/NF closes on April 1), there are some more permanent upgrades in the MoMA Film lobby: three large screens now give a clear overview of current and upcoming screenings; new directional signage will help you spot the ticket desk; and you can ride down to the newly carpeted theaters on the new super-silent escalators. In addition, a T-coil system has been installed in the theaters for audience members with compatible hearing aids. Keep your eyes open; there will be even more updates in the near future. We would also love suggestions, so feel free to e-mail us or comment below!