I bore myself (and many others, I'm sure) with how often I mention that I grew up in New York City and how much it's changed over the years—also, did you happen to know about A and have you gone to B yet or eaten at C—and OMG don't ever D at E because insert lengthy anecdote here.
But I can't help it! Like many of my fellow natives and non-native (yet no less New York-y) New Yorkers, I'm in a very serious criticize-it-because-I-love-it-so-much relationship with the big, old apple, and probably always will be.
Few things reflect how complex the city is, and indulge my endless ability to romanticize and fantasize about it, more than the NYC-related art in MoMA's collection. The photography alone: Helen Levitt, Gary Winogrand, Berenice Abbott, Weegee…to say it wasn't easy picking just five works for this post is a huge understatement!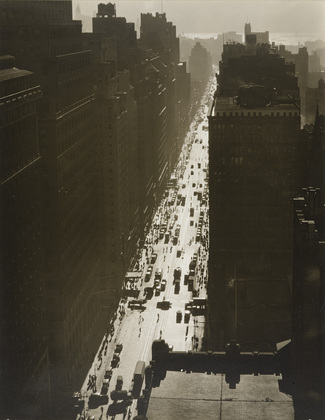 1. Berenice Abbott. Seventh Avenue Looking South from 35th Street, Manhattan. 1935
I'll start with an image courtesy of the American photographer Berenice Abbott, who, interestingly, came to New York from Paris in 1929 to find a publisher for a book she'd put together of works by Eugène Atget.
Abbott ended up becoming an inimitable chronicler of New York architecture and the city itself (joining Atget in the pantheon of modern artists while she was at it). Sadly, but not surprisingly, few of the landmark-worthy buildings she photographed exist anymore. But for those that remain, it's fun to compare her image of them with what's there today. View more of Abbott's portfolio in MoMA's Online Collection.
Now let's move on to this warm-weather vision, courtesy of another one of my favorite urban shutterbugs…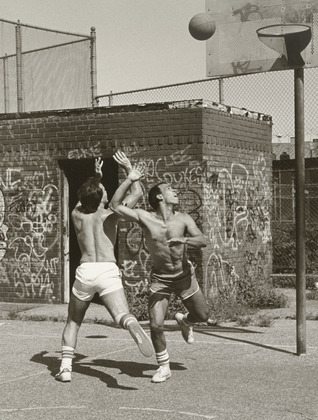 2. Helen Levitt. Brooklyn, New York. 1982
Helen Levitt's unique eye captured New York's street culture from the 1930s to the 1970s, during a now-lost time of empty sidewalks, abandoned buildings, and kids playing in the street.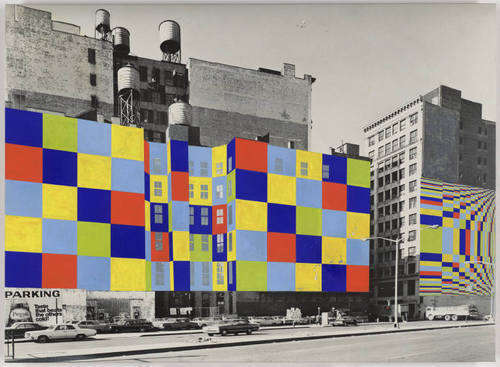 3. Jason Crum. Project for a Painted Wall, New York City, New York, Perspective. 1969
Here's a surprise: did you know there are murals in the collection? I sure didn't. This is one from that now-lost time, when so many sides of buildings were blank (Can you imagine?) that muralist Jason Crum founded City Walls, a group that worked with artists like himself to brighten up the city with public art.
Here's another work that's surprising, and yet not so surprising, to see in the MoMA collection: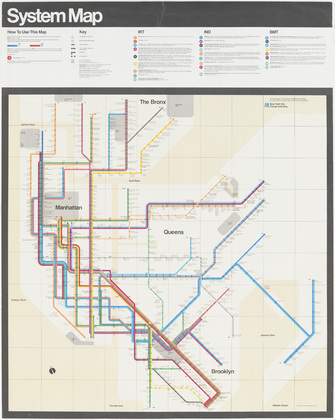 The designer of this handy map was also known for the then-ubiquitous 1960s melamine Stacking Dinnerware made by Heller (also in the MoMA collection) that's so very collectible today.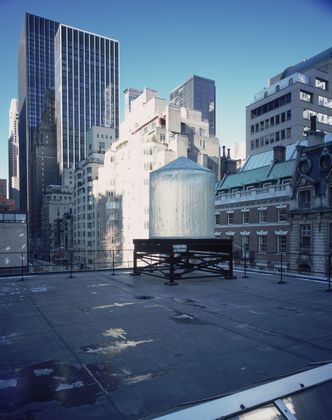 5. Rachel Whiteread. Water Tower. 1998
Lastly, I've always loved this project by English sculptor Rachel Whiteread, probably because it so clearly reflects her love of New York City by glorifying such an everyday aspect of its landscape. In 1998, with a grant from the city's Public Art Fund, Whiteread made a translucent resin cast of a water tower and installed it on a rooftop on West Broadway and Grand Street in SoHo. It looks, glowingly, like the water in the tank without the tank.
Listen to a short interview with Whiteread about her project.
Guess where this special water tower is today? It's up on MoMA's roof! So next time you're flying over the city, via airplane or hang glider, look down onto West 53rd Street off 5th Avenue and see if you can spy it from up there.