Five for Friday, written by a variety of MoMA staff members, is our attempt to spotlight some of the compelling, charming, and downright curious works in the Museum's rich collection.
I'm no artist. For Father's Day, I typically buy my dad a funny card, we go out to dinner, and I make sure to get in a hug. Not the most creative, but hey, it's the thought that counts, right?
Artists, however, have a way of getting to the heart of things. Their work often expresses sentiments that I can only seem to dance around. In MoMA's collection, I've found pieces that capture some of the gratitude and affection that Father's Day inspires. Here are five of them—tributes to dad, courtesy of MoMA.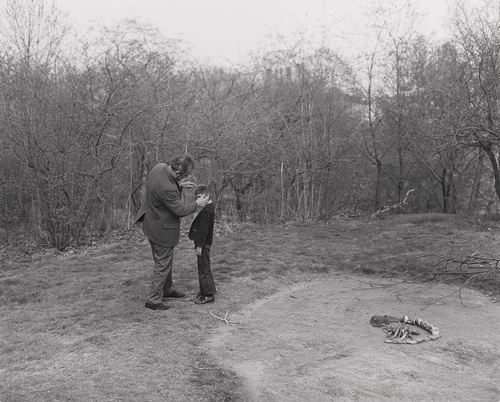 1. Tod Papageorge. Father and Son, Central Park. 1980
This photograph captures a private moment between father and son with striking clarity. The work is one of Papageorge's own favorites, and discussing it with the Guardian he explained, "I realized…that only if we saw the comb against the boy's head—not lost in the father's hand, or above him—would the picture have the clarity that it should, in order to have any meaning at all." Luckily he nailed it, resulting in a quiet, poetic scene.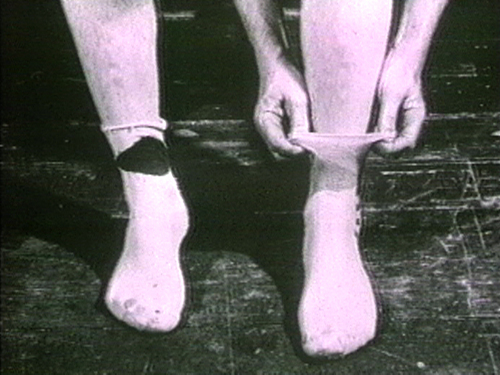 2. Dennis Oppenheim. My Father's Socks. 1972
In this video Oppenheim takes up the adage of following in his father's footsteps rather literally. He puts on socks that we assume belong to his dad, carefully layering each pair. As he does so, he speaks to his father, saying, "I'm putting you around me now. I'm inside of your space."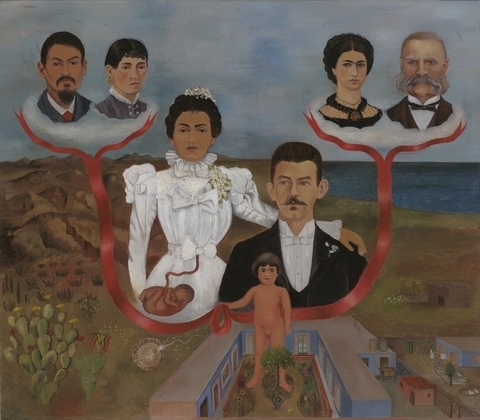 3. Frida Kahlo. My Grandparents, My Parents, and I (Family Tree). 1936
In this small painting, Kahlo pays tribute to her family—her Mexican mother, her German-born Jewish father, and her grandparents on both sides. Painted in 1936, shortly after Hitler passed the Nuremberg laws that stripped Jews of their citizenship and forbade them from marrying other Germans, the work shows Kahlo defiantly touting her Jewish heritage. (Scholars have since argued that Guillermo Kahlo wasn't, in fact, Jewish, but Frida believed—or claimed—it all the same.)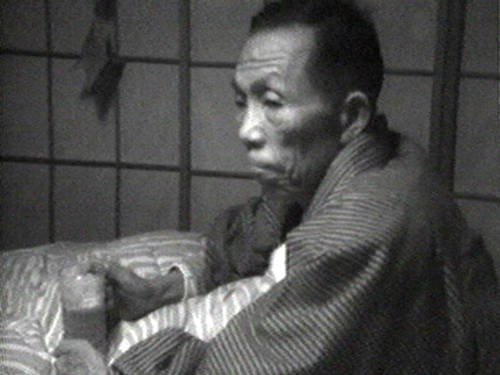 4. Shigeko Kubota. My Father. 1973–75
Kubota's film is an emotional and intimate meditation on the passing of her father. The video shows the pair watching TV together on New Year's Eve, when her dad was dying of cancer. After his passing, Kubota cries to the camera and painfully asks, "Father, why did you die?"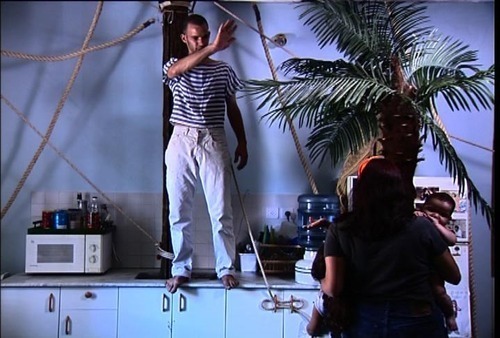 5. Guy Ben-Ner. Moby Dick. 2000
In this video Ben-Ner playfully re-creates the story of Moby-Dick in his house with his family. Using a few basic props and costumes, Ben-Ner transforms his kitchen into the Spouter Inn and later the whaling ship, while he and his daughter Elia play most of the characters. The silent film includes slapstick and occasional special effects, but what stands out most is the closeness and warmth of a father and daughter enjoying their time playing make-believe. (Watch the full video)


And a happy Father's Day to all our readers, too!