How well do you know your MoMA? If you think you can identify the artist and title of each of these works—all currently on view in the Museum's Painting and Sculpture galleries—please submit your answers by leaving a comment on this post. We'll provide the answers—along with some information about each work—in one month (on Friday, July 8).
ANSWERS TO THE MAY 13 CHALLENGE:
Congratulations to Rui, the only person to identify all six works. Can anyone out there claim this month's title?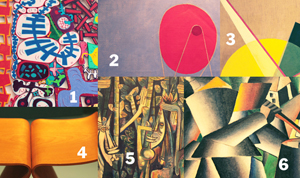 1. Elizabeth Murray. Do the Dance</a>. 2005</p>

2. Meret Oppenheim. Red Head, Blue Body</a>. 1936</p>

3. László Moholy-Nagy. Yellow Circle</a>. 1921 </p>

4. Sori Yanagi. Buttterly Stool. 1956

5. Wilfredo Lam. The Jungle</a>. 1943</p>

6. Kazimir Malevich. Woman with Pails: Dynamic Arrangement</a>. 1912–13</p>