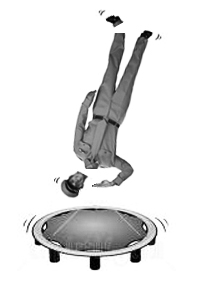 Like my uncles, my father, and many other fathers, Fluxus is a stroller, meaning all are peripatetic, funny, unreliable, enigmatic, and angry.
My father strolled, my uncles strolled, and so does Fluxus. The word "stroller" is not my own. I heard it at my uncle's funeral. A strange woman said it. I did not know her. I suppose my uncle did. He knew a lot of people. When it came time for folks to say a few words about the deceased, the woman stood up and said, "He was a stroller." Everyone laughed. At first I thought she was calling him a baby carriage but I knew what she meant. There had always been something enfant-like about my uncle, the oldest son of my mother's mother. Men like my uncle never grow up. They are like a cloud; they get around a lot but they never take on any mass. My uncle loved to drive long distances. He did not like to stay in one place too long or make himself too available. But when he was available he could be very entertaining.
Fluxus is distant and cool but also charming, jokey, and enigmatic. As a message, it is a mixed signal that is very attractive and off-putting simultaneously. Perhaps I am not being fair to Fluxus by comparing it to members of my own family. Fluxus is neater, less embodied, and not as angry as my father and uncles. But there's more at stake here, something missing in the signal—some dirt in the instruction, some blame beneath the punchline, some pursed lips weeping in some hallway beneath some boxed edition…
In some dark, in some dark someone is speaking and someone is listening in an even darker darkness…
Still, Fluxus, notwithstanding such figures as Bici Forbes, Alison Knowles, Shigeko Kubota, and Yoko Ono, has primarily been comprised of men. That is how I first came to know fluxus, as a group of men and one or two women, one of whom was the wife of a Beatle.
The description of Fluxus as predominantly male does not separate it from many other 20th-century art cohorts but Fluxus, on the surface at least, seemed to offer a way out of the typical art movement cul de sac; the chest-pounding, the competition, the careerism, the bad faith without self-knowledge. But fathers are meant to disappoint their children and elate them with a darkness they did not know they possessed. Ah, with such a gift, what is a child to do? Make a project of disgusted and disaffected Fluxus at The Museum of Modern Art.
I have my favorite Fluxus artists. I wish they'd all have sex with each other and make me their baby. Kubota, George Brecht, Geoffrey Hendricks, Raphael Ortiz, Wolf Vostell. The gentlest is Hendricks. The most punk, Ortiz. The most elegant, Brecht. The one I just like, Kubota.
Hendricks was my teacher. Besides Leon Golub, he was the only teacher from my MFA program to help me after I finished school. Ortiz seemed to be the brilliant, angry colored guy who couldn't get his head around the idea. What idea? Who knows. Kubota? I first saw her mirror video pieces. Then a performance in which she paints with a paint brush in her vagina. The two types of work did not make sense together, yet they did make sense.
I am interested in going into a certain dark, a certain anger which is gentle, not loving, never knowable, neither here nor there. Flux this! Fluxus forever.
Flux This! Instructions, proposals, notions, a phone call, and a trampoline (see diagram above)…a day and a half of Fluxus-inspired-and-disgusted workshops, performances, video, and interventions, concluding with an evening of short things and even shorter things. Starts Thursday, March 24, at 3:00 p.m.