This is the final blog post for the conservation of Claes Oldenburg's Floor Cake.
Below you can see the individual layers after cleaning.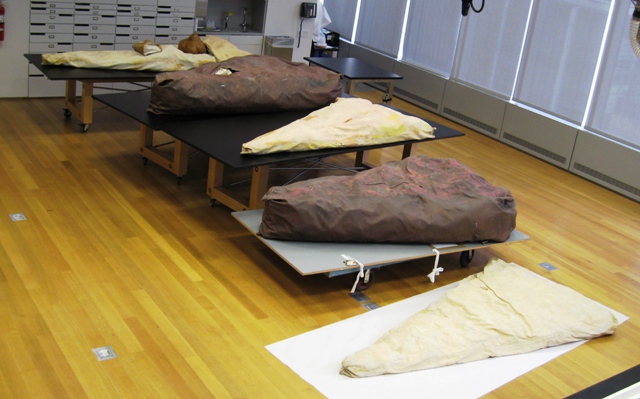 After surface cleaning we completed minor filling and inpainting on areas of loss.
Filling was completed on the toppings with Beckers Latex spackle and small losses were integrated with Winsor Newton watercolors.
We were then confronted with a couple of internal structural issues. The cake had become considerably more flattened over the last 50 years.
The polyurethane foam stuffing has lost volume due to degradation, resulting in an increasingly deflated cake. We investigated different fillings, searching for a material that is archival and lightweight. Since a large majority of the of foam is soft and still intact, we decided to add to the original foam instead of totally replacing it. After consultation with colleagues in textile conservation we chose to use 1 lb etha-foam contained in muslin bags.
With this method we could keep supplemented materials together, allowing for them to be easily removed in the future, while retaining as much of the original as possible.  This afforded an archival, efficient, and low-cost method of supplemental stuffing.
Now for just a moment we would like to step back and show you an archival image taken of Floor Cake in 1975 (on the left) and compare that to an image taken of Cake as we began this study and treatment (on the right).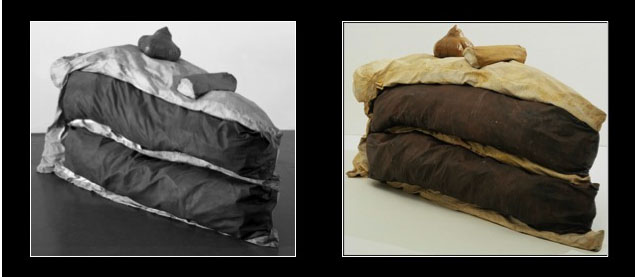 You can see that the locations of the drop and sprinkle have shifted over the years. In the cake's early days its crate was not large enough to house it as a whole, so the toppings had to be removed for transit. Through the course of our examination we located original tether locations for the drop and the sprinkle.
We studied the earlier treatments and evaluated their effectiveness. We looked at the current research and available techniques. We chose a combination of dry and wet cleaning techniques to extract as much grime as possible with minimal mechanical action. We are pleased with the results of this treatment and will be advocating for the use of a platform or stanchions in the future to prevent curious visitors from touching Floor Cake.
Postprints of this project, as presented at The American Institute for Conservation of Historic and Artistic Works 2010 annual conference, will be forthcoming and available through the Objects Specialty Group.
Thanks for reading and please look for more MoMA Conservation projects in the future.