Over the course of the past few months the conservation of Floor Cake has been completed.  We would like to use the next posts to describe our treatment and the results.
Before cleaning we consolidated any areas of flaking paint with Lascaux Acrylic Adhesive.
We then found that a combination of cleaning techniques yielded the safest and best results. We first vacuumed the entire surface of the cake with a variable-suction vacuum set to very low suction. Then we began with dry cleaning to see just how much dirt and grime we could remove without moisture. Of all of our methods, we found rubber soot sponges to be very gentle and highly effective. We cut the sponges into small, manageable wedges and then lightly rubbed and patted the entire surface overall, including the drop and sprinkle, to remove an initial layer of grime.
We next moved to wet cleaning in select areas. All surfaces of the five layers of cake were cleaned with an aqueous-based solution prepared with the modular cleaning program. Below you can see the testing of different combinations of surfactants, chelators, and buffers with the computer program to aid in recipe preparation.

We tested the different formulas at pH ranging from 6 to 7 and altered out methods of application from hand-rolled cotton swab to PVOH sponge wedge to determine what was most effective at removing dirt and grime. (Please see previous MoMA conservation blog post 5 to learn more about pH.)
We finally chose a pH of 6.5 and our solution contained mostly water as well as the following: bis-tris acting a as a buffer, citric acid, less than 1% of the overall solution was a chelator, and Brij 700 served as surfactant. Stock solution was prepared in 500 ml bottles.
We applied the cleaning solution by lightly moistening PVOH sponge wedges and gently patting and wiping the surface. We then used pH 7 clearance solution, made of water buffered with 10% sodium hydroxide (also on sponges), to clear away our cleaning solution.
We went on to further reduce the efflorescence on the chocolate drop discussed in post 3 with petroleum benzine.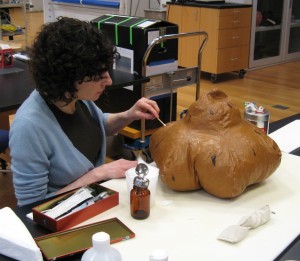 Removing the top layers of grime has greatly improved the overall look of Floor Cake. Please look for a post about the remainder of the treatment next week.
</div>