"YES," I replied, without delay, to the e-mail announcing MoMA and the AIA Center for Architecture's last boat tour of the New York harbor in August. Having missed several tours earlier in the summer, I could not let this opportunity pass. Through Rising Currents, MoMA had not only invited architects and landscape designers into their galleries to present works responding to a real-world dilemma, but was now taking the public out of its galleries and into the areas examined as well.
The boat, a yellow-checkered New York Water Taxi, had good outside areas for viewing. But as the vessel sailed off into the choppy waters, departing from South Street Seaport's Pier 17 around 6:30 p.m., we discovered that the bar on board was dry. We imagined it was going to be a rough ride! But it was a beautiful summer night and we drank in the views instead as we listened to Chief Curator Barry Bergdoll's introduction. Soon we were lost in the scenery and thoroughly satisfied with our ginger ales.
The tour brought us to explore all the zones covered in the exhibition. As a native New Yorker I was truly taken with the diverse shoreline of New York and New Jersey's shared harbor, a geography I thought I was familiar with but found to be far more complex than I'd imagined. When viewed from lower Manhattan or Brooklyn, this coastline, with its islands, channels, and inlets, appears to be much flatter than it is. Seeing it through the ideas, projects, and proposals of the five teams helped me imagine a future of sustainable waterfront development that is flexible and responsive, rather than fixed and rigid.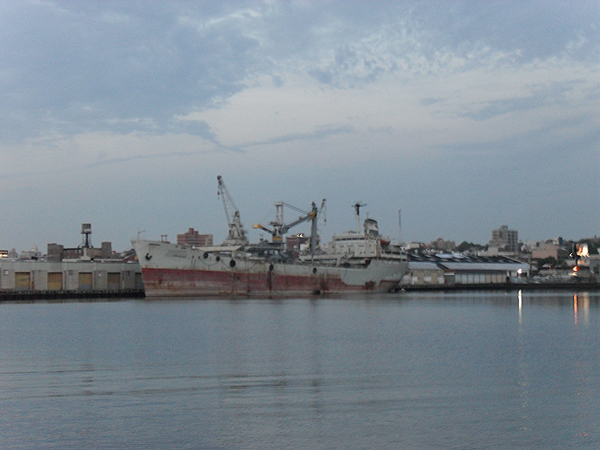 For centuries this complex harbor was the area's main lifeline and link to the world of commerce and exchange. The residents of New York and New Jersey were intensely aware of the opportunities that its proximity to water presented. However, over the last fifty years, effective harbor use dwindled. Recent decades brought on the trend of waterfront development for tourism, recreation, and residential use. The proposals presented in Rising Currents: Projects for New York's Waterfront have helped me imagine the confluence of all these past and present harbor uses in a way that can actually respond to the crises of our rising waters, rather than running from our coastlines as the waters rise. Responding with flexible, mixed-use infrastructures would not only allow us to live near these coastal areas, but to actually farm and profit from them as well. Our relationship to water would again become one of give and take.
But I realized what else was important. Simply appreciating and understanding what we have now is essential to our understanding and imagination of the future. Getting out there on this tour allowed me to visit areas like the Kill Van Kull and Bayonne waterfronts. Some of these are actually surprisingly intimate and romantic landscapes. As we floated through the the area near the Bayonne Bridge, I felt almost taken back in time. One could spot an occasional silent fisherman on a pier or outcrop. And the water was quiet; the only motion was that of trusty tugboats, calmly guiding along their heavy loads of shale or shipping containers. Many of these tugs, more than several decades old, proudly portray the family names of the companies that run them (and often their daughters, like the MARY L. McALLISTER). This is all part of what goes on in our harbor, whether we are aware of it or not, and smart waterfront development will allow this history to coexist and survive even as the sea rises.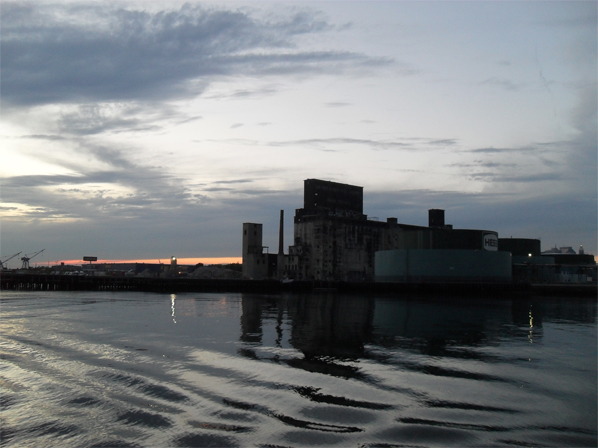 Another particularly moving landscape was that of the Gowanus Canal and Buttermilk Channel. This completely industrialized area seems almost incapable of supporting natural species. And though I personally find the crumbling concrete grain silos and rusty old ships haunting and beautiful, it is hard to imagine anything living here in the water. However, hearing about Scape's Oyster-Tecture while floating in the murky waters, I tried to imagine savoring a dozen of the oysters that the group claims could not only clean up the area but even feed its residents.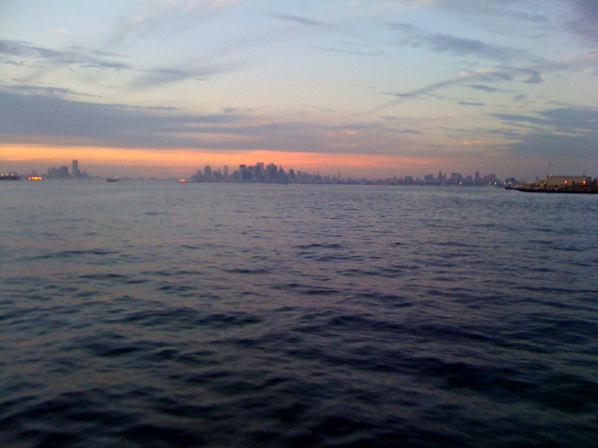 The sun started to set as I squinted at the Gowanus, picturing oyster farms. Barry Bergdoll announced our return to "Emerald City," and our boat changed course toward lower Manhattan. As we walked off, taking care to recycle our ginger ale cans, we were grateful that the land we were then standing on was still dry and above water, at least for the immediate future. But we were also reassured to know that there are proposals to help us cope with the changes this landscape may shortly experience.