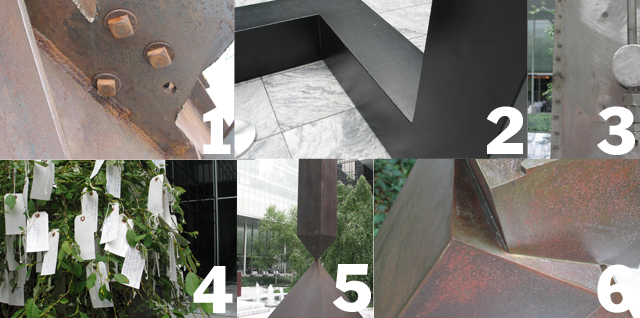 How well do you know your MoMA? It's summer, so what better time to test your knowledge of collection works currently on view in the Sculpture Garden? If you think you can identify the artist and title of each work, please submit your answers by leaving a comment on this post. We'll provide the answers—along with some information about each work—in two weeks (on Friday, August 13), along with the next Do You Know Your MoMA? challenge.
And if you don't already know, MoMA is open late the first Thursday of each month, with cocktails and live music in the garden—so don't miss the opportunity to come explore on Thursday, August 5.
ANSWERS TO THE JULY 16 CHALLENGE:
Looks like this was a tough set of clues, and we didn't have a winner, but Murphy Chang gets an honorable mention for correctly identifying four of six works. This week's challenge is much easier, so I hope we'll have a winner…maybe even two.
1. Robert Rauschenberg. Currents. 1970
2. Kerry James Marshall. Study for Blue Water, Silver Moon. 1991
3. Bruce Nauman. Punch and Judy II Birth & Life & Sex & Death. 1985
4. Lucy McKenzie. Untitled. 2002
5. George Maciunas. One Year. 1973–74.
6. Ellen Gallagher. DeLuxe (one panel of 60). 2004–5.