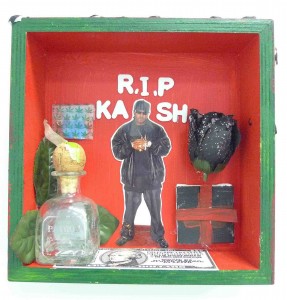 Located just blocks away from The Museum of Modern Art, the WISE program at the Midtown Community Courthouse (MCC) is the only comprehensive initiative in New York City for women over the age of 21 who have been arrested for prostitution-related offenses. As victims of physical and sexual violence, exploitation and human trafficking, many of these women lack both the fortitude and the support that they need to escape the cycle of re-arrest and re-victimization. WISE (the name is an acronym for Women's Independence, Safety, and Empowerment) provides this support through individual and group counseling, as well as by teaching financial literacy to promote economic self-sufficiency.
Since 2007, through my role as Community Outreach Consultant here at MoMA, I have been working closely with the counselors and administrators at WISE to develop a series of workshops and tours that build upon their pre-existing framework of esteem building, health counseling, and self-exploration. Before touring the Museum, we begin each semester with a visit to the MCC offices, where I get a chance to meet and talk with the women during one of their sessions, and to introduce myself and The Museum of Modern Art to them in a low-pressure, conversational manner. As we go around the room, discussing our backgrounds and the artistic experiences we have had in our lives, I am always struck by the incredible breadth of the women's backgrounds. Many started out as dancers, and some discuss studying with prestigious dance companies in their adolescence. Some are photographers, or have a background in painting and sculpture. In almost all cases, they speak of their connection to the arts in the past tense. They were painters, or they used to write poetry. There's a disconnect from the person that each woman once was, a person who had the freedom to sit and think and express. If they've ever been to MoMA, it was usually many years ago during a school trip or a family outing. Some believe that they wouldn't be allowed in anymore—that we'd turn them away if they tried to enter the galleries. On any given session, more than a third of the women are mothers of young children.
For our last series of workshops together, we wanted to create a space for the women to reconnect with their creative selves. The idea of creating altars came from a few pieces in our collection, specifically Meret Oppenheim's Object (1936), Frida Kahlo's Self-Portrait with Cropped Hair (1940), and George Brecht's Repository (1961). We set up a four-class outline, with one Museum tour and three days set aside for the creation of the altars. We looked at self-portraits, images of artists creating their identities through their depictions of themselves. We discussed the future, and I asked the participants to bring in objects that had meaning to them, whether as connections to their pasts or as symbols of their futures. These altars were shown in an exhibition that coincided with their graduation ceremony from the WISE program. Many of the women brought friends and family and showed them their artworks. One woman created an altar in memory of the father of her child, who had been killed in a homicide a year earlier. She brought their son to the exhibition and showed him what she had created. At the end of the night, the boy and his mother left the building carrying the altar to his father in their hands. The son said that he wanted to hang it in his room.