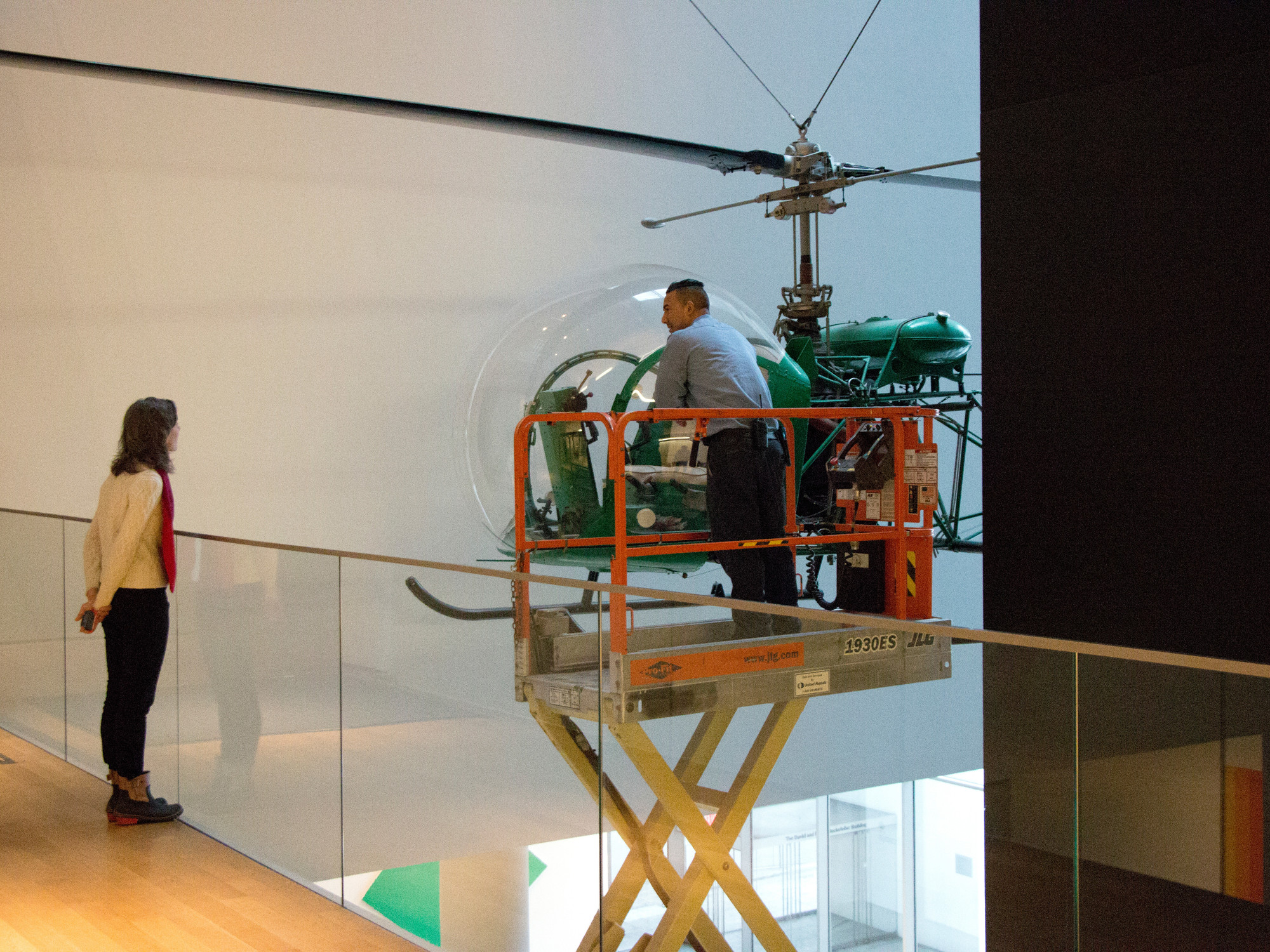 Jobs
The Museum of Modern Art jobs
Accounts Payable Specialist
Performs various accounts payable processing tasks and reviews functions critical to the completion of accurate and timely payments. Processes invoice-related vouchers for payment and posting to the general ledger. Reconciles accounts payable sub-ledger to general ledger on daily basis. Runs jobs for checks, Automated Clearing House (ACH), wires, and credit cards payment methods. Effectively and promptly communicates on vendor and internal inquiries. Assists with account analysis and prepares miscellaneous vendor reporting, including the weekly accounts payable status report. Enters wire transfer payments, USD, and foreign currency. Reviews travel and entertainment expense reports in accordance with travel and expense (T&E) policy and assists with T&E system. Reviews capital expenditure vouchers prior to general ledger posting and reconciles asset manager activity. Reviews stale-dated checks, preparing file for escheatment. Monitors open payable and vendor credit reports. Completes closing procedures by the third business day of each month. Leads annual 1099 and 1042 tax reporting by mandated due dates. Performs related account reconciliations and follow-up as required. Develops, in conjunction with manager of Accounts Payable, metrics to more effectively manage the department's through-put. Reviews accounts receivable reconciliation. Assists with special projects as assigned. Reports to Manager, Accounts Payable.
More

information
Requirements
Bachelor's or associate's degree in accounting. Two years accounting experience, preferably in a museum or not-for-profit environment. Strong knowledge of accounts payable policies and procedures. Team player with the ability to coordinate and communicate with individuals throughout the Museum. Excellent interpersonal skills. Self-starter with strong detail orientation and highly organized work habits. Experience and proficiency with PeopleSoft Accounts Payable module or similar ERP software. Knowledge of foreign vendor taxation and statutory reporting.
Assistant to the Chief Curator
Performs general administrative duties, including organization and maintenance of all chief curator files. Facilitates chief curator's email and written correspondence. Drafts answers for routine correspondence and inquiries. Corresponds and acts as liaison with outside persons, other organizations, and Museum personnel. Answers chief curator's telephone calls and covers for others. Opens and routes incoming mail, faxes, and email. Liaises with artists represented in the collection and coordinates their passes and inquiries as needed. Makes travel and logistical arrangements for chief curator. Coordinates chief curator's schedule and various departmental functions in coordination with department manager. Prepares travel and entertainment expense reports in accordance with policy. Assists department manager with budget as it relates to chief curator's expenditures, as well as payment of departmental expenses when needed. Maintains general organization of chief curator's office. Maintains chief curator and department contacts, artist address lists, and departmental invitation lists. Maintains list and coordinates distribution of Annual Artist Passes. Assists with setup and running of lectures, roundtable discussions, gallery visits, etc. Attends meetings and special events as required. Assists with preparation of PowerPoint presentation materials for internal and external engagements. Completes project and administrative assignments as directed by chief curator and department manager. Assists and takes direction from department manager and curatorial staff as required. Reports to The Philip Johnson Chief Curator of Architecture and Design.
More

information
Requirements
Bachelor's degree and five or more years experience in administrative positions or equivalent. Superior judgment and discretion, professional initiative, and strong verbal communication abilities. Strong computer skills, including proficiency with Microsoft Office Suite (Word, Excel, PowerPoint). Architecture and research background is desirable but not essential.
Building Project Art Director (fixed-term position)
Graphic Design and Advertising
Creates a wide range of creative proposals, presentations, and campaigns for new building project communications and for the Membership, Marketing, and Development teams during the construction time period. Designs and produces cross-media collateral materials such as print materials, digital media, video, construction signage (both digital and print), donor signage, directory screens, and directional signage to support Museum communications and visitor experiences. Reports to Associate Creative Director.
More

information
Requirements
Bachelor's or master's of fine arts in graphic design and six to eight years design and production experience, including three to four years as a senior designer or art director or equivalent. High level of creative talent and conceptual development, with excellent design and typography skills. Team player with willingness to collaborate with people across all departments. Excellent design ability and thorough knowledge of advertising, exhibition design, print production, and video production, with additional experience in storyboarding and concept development for video and animation. Excellent organizational skills. Outstanding ability to manage multiple tasks. Excellent job management, strategic planning, and interpersonal leadership skills. Proactive problem-solving proficiency. Ability to work well under pressure. Adept at finessing outstanding working relationships with a wide variety of personality types. Thorough knowledge of Adobe Creative Suite (CS5.5 and CC) and InCopy. Additional knowledge of Adobe Digital Publishing Suite, After Effects, Apple Final Cut Pro, HTML, and CSS preferred. Proficiency with Microsoft Office. This is a one-year, fixed-term position with the option for renewal for another year.
Guest Assistant
Creates a highly positive experience for Museum guests that is conducive to repeat visitation, membership conversion, and positive word of mouth for the Museum. Sells daily and advance Museum admission, film, and program tickets, memberships, and member guest passes. Processes credit cards and coupons, rings up cash, and issues change. Generates proactive sales efforts throughout the Museum. Proactively and warmly welcomes guests, responds to questions, and offers guidance. Validates admission at points of entry to galleries. Ensures smooth flow of visitors by proactively guiding visitors to various queues and spaces. Resolves general complaints from guests and members on site. Stays abreast of current and upcoming exhibitions, films, educational programs, and marketing campaigns. Helps maintain inventory of printed information and marketing materials, and ensures signage is properly placed. Reports to Lobby Managers.
More

information
Requirements
Bachelor's degree or equivalent. Proficiency with computers/Windows. Exceptional customer service skills, customer service experience, and passion for the visual arts. Previous museum experience and foreign language skills strongly preferred. Must be available to work weekends and holiday periods. Must be able to work weekend hours.
Network Engineer
Ensures smooth operation of the Museum's local and wide-area data network in order to provide maximum performance and availability. Designs, installs, maintains, and supports LAN and WAN infrastructures at all locations, including data centers and offices. Designs, implements, maintains, and supports MoMA's LAN/WAN. Leads network-related projects. Manages performance and maintains security of networks at an advanced level. Assists in implementing policies and procedures for LAN/WAN usage throughout the organization. Acts as primary organizational interface with vendor and provides internal analysis and support. Upgrades and maintains Cisco equipment across LAN/WAN environment. Monitors all communication equipment in support of new product/process implementations. Creates and maintains comprehensive documentation and schematics for all network topology, equipment, and configurations. Maintains accurate and up-to-date inventory of all network hardware and system software. Reports to Senior Manager of Infrastructure.
More

information
Requirements
Eight-plus years experience with Cisco routers and switches, CCNA and CCNP preferred. Eight-plus years experience in the design, implementation, support, and management of complex LAN/WAN environments. Well versed in advanced engineering and administration of multi-protocol routers, multilayer switches, network security devices, and network management systems. Excellent problem management, troubleshooting, and customer service skills. Advanced working knowledge of Cisco Nexus and Catalyst platforms. Advanced working knowledge of Cisco switching and routing platforms. Ability to perform LAN/WAN debugging at the most complex level. Advanced understanding of routing and TCP/IP, BGP, Multi-VRP, and EIGRP. Advanced understanding of switching protocols, VSS, RTSP+, Spanning Tree, Port Security, and QoS. Experience with network traffic analysis and protocol analyzers (WireShark, tcpdump). Expert-level troubleshooting and problem-resolution skills. Knowledge of network maintenance processes and formal change management procedures. Able to effectively lead and manage high-profile projects as necessary. Able to function independently and in a team environment with minimal supervision. Knowledge of structured cabling principles and general data center operations. Strong oral and written communication skills. Ability to explain highly technical concepts to a non-technical audience. Familiarity with network security principles, tools, and best practices. Experience with data security audits and processes a definite plus. Experience in high-volume, 24/7 production environments is a definite plus. This position requires being on call 24/7 for production issues. Must have demonstrated ability to lift heavy (up to 50 lbs.) equipment; crawl under or around furniture to install equipment; and climb ladders and reach to install computer wiring and perform other tasks. Position is within the scope of the Payment Card Industry Data Security Standard (PCI DSS). Therefore, any offer of employment for this position is contingent on candidate passing a criminal background check.
Program Coordinator, The Junior Associates
Manages the overall administration of The Junior Associates, a group of 350 members. Works directly with the manager of Affiliate Programs and Junior Associates co-chairs and steering committee to plan fundraising strategies and extensive agendas for the group (35 exclusive events a year). Oversees JA steering committee with three to four annual committee meetings. Independently creates, produces, and hosts all JA events throughout the year; oversees all details, including invitations, financials, production, security, and catering. Serves as liaison between Junior Associates, Museum staff, outside organizations, and individuals from the art community at large. In particular, collaborates with Museum's curatorial staff and departments of Membership, Development, and Exhibition and Program Funding. Oversees and markets JA membership through robust recruitment and retention efforts. Processes membership applications and renewals. Oversees general JA correspondence, including email/phone inquiries from members and prospects and letters of thanks and acknowledgments for gifts. Maintains membership database, confidential donor files, JA website, and department records. Develops and oversees JA annual budget. Processes invoices and tracks expenses. Ensures funds received are directed to the appropriate Museum accounts. Designs, implements, and manages all fundraising strategies for JA activities related to Museum's capital campaign. Reports to Manager, Affiliate Programs.
More

information
Requirements
Bachelor's degree, preferably in art history, and two to three years related development/membership experience or equivalent. Experience working with high-level donors with a proven track record in fundraising. Excellent organizational and analytical skills, with strong attention to detail. Ability to effectively deal with large groups of people. Strong written and verbal communication skills. Ability to produce under deadline and work effectively with a diverse group. Proficient in Microsoft Office Suite and with databases, office procedures, and office equipment. Facility with numbers to work with budgets and financial data. Available to work some evenings and weekends.
Sales Associate
Answers inquiries and assists customers in making selections. Stocks and restocks sales fixtures. Straightens and dusts merchandise and fixtures. Assists in physical inventories. Opens and closes cash registers and is held accountable for any discrepancies noted by manager. Reports to Store Manager.
More

information
Requirements
High school diploma or equivalent. Some sales experience. Excellent customer service skills. An interest in good design, books, art, and architecture. Ability to work afternoon and weekend hours.
Senior Web Developer
Develops and supports applications for the Museum's online store. Provides support for the Retail and Membership teams' strategic online initiatives. Performs application build and deployment activities. Tunes and optimizes website to improve performance and stability. Provides relevant documentation of deployed updates and projects. Effectively advocates for piloting latest technology for projects. Troubleshoots any technical issues that may arise. Reports to Associate Director, Applications.
More

information
Requirements
Experience on Salesforce Commerce Cloud (formerly Demandware), and basic back-end support. Bachelor's degree in computer science or related fields, and a minimum of four to five years of software development in a multi-tier environment. Knowledge and appreciation of art is a plus. Technical skills required include HTML, Javascript (server-side: ECMAScript 3rd Edition; client side: jQuery library), AJAX, CSS, JSON (for all AJAX components), XML, Web services, and experience with RESTful API's. Agile experience with ecommerce business and mobile development. Technical project management skills, and ability to work with business users to prioritize requirements. Strong understanding of key technologies, including Web servers, relational databases, scheduled batch jobs, data transformation, import, and export required. Ability to develop and manage projects with high degree of independence and accountability. Demonstrable experience in advanced troubleshooting techniques. Excellent communication and collaboration skills. Strong proficiency designing, developing, and calling Web services and other forms of remote API calls. Eagerness to learn and teach newest technologies, disciplines, and methodologies. Ability to independently lead, design, code, unit test, system test, performance test, debug, and implement Web or mobile solutions. Experience building mobile and tablet apps and with ETL desired, but not required.
The Studio Museum in Harlem | MoMA – Museum Fellowship Collaboration
The Studio Museum in Harlem and The Museum of Modern Art are accepting applications for the second Museum Fellowship Collaboration. Each museum will accept three museum fellows—two for curatorial departments and one for public programs. The fellows will spend one year at each museum, then rotate to the partner institution for the completion of the two-year program.
The museum fellows, under the direction of either the curatorial department or public programs administrators, will work independently and collaboratively with museum staff to gain in-depth experience. This joint fellowship will develop the next generation of museum professionals, and will offer insight into the daily workings of a museum through workshops, public programs, professional development, and contribution to academic discourse. The fellows will contemplate the role of museums in contemporary society through exploration of the mission and collections of these partner institutions.
Curatorial Fellows: The curatorial fellows will participate in the essential activities of a curatorial department, which may include assisting the staff in the following areas: collection management, archives, acquisitions, loans, exhibition research, catalogue production, and administration. Under the guidance of the curatorial and administrative staff, the fellows may also assist in the logistics, research, planning, and organization of activities and programming generated in their assigned department, in addition to various research and administrative aspects designed to foster future involvement in the field of art history and curatorial endeavors.
Public Programs Fellow: The fellow selected for public programs will be involved in researching, developing, and producing adult public programs and events, conducting outreach to cultural partners, and brainstorming audience development strategies. The museum fellow will be responsible for communicating and coordinating with a diverse group of program participants and facilitators, including exhibiting artists, lecturers, performers, scholars, educators, writers, community organizers, and arts and culture organizations.
At the Studio Museum, this fellowship focuses on the production of artist projects and exhibitions-related programs, alongside ongoing research into challenges and best practices within the field. These include artist talks, hands-on workshops for adults, film screenings, book clubs, panel discussions, and professional development workshops for artists.
At The Museum of Modern Art, this fellowship is positioned within the Department of Education, focusing on assistance with the research, development, and production of exhibition-related theater programs and in-gallery experiences for visitors. These include panel discussions and symposia, as well as the Agora series, Let's Talk Art, #ArtSpeaks, and other new pilot programs.
The ideal candidate is flexible and willing to take on a wide range of responsibilities both administrative and programmatic. They must also be comfortable interfacing with the public on a regular basis.
The Museum Fellowship includes health benefits, two weeks paid vacation per year, and an additional $2,000 to cover travel expenses for an approved research trip related to the fellow's field of interest.
To apply: Please submit a cover letter specifying your interest in either curatorial or public programs, highlighting a particular area of professional or scholarly interest. Candidates must also submit a résumé, two letters of recommendation, and a writing sample of no more than five pages.
Application deadline: June 16, 2017
(Please note: materials must be received by this date)
Fellowship begins: September 18, 2017
Fellowship ends: September 2019
Please email application materials in PDF format to museum.fellowship@studiomuseum.org, using either "Museum Fellowship: Curatorial" or "Museum Fellowship: Public Programs" in the subject line.
More

information
Requirements
The Museum Fellowship is a paid, two-year commitment for someone in the early stages of their career. Excellent written communications skills are required, along with the ability to function in a fast-paced environment within a team. Applicants must be able to manage multiple projects at once with keen attention to detail, adaptability, and a positive attitude. The ideal museum fellow will have a baccalaureate or graduate-level degree, with a concentration in art history, curatorial studies, Africana studies, visual culture, or a related field. Previous involvement within an arts community or arts institution and a desire to work in a museum are also important. Candidates for the Museum Fellowship will be reviewed through a competitive, open process. Applicants must be members of historically underrepresented groups in the curatorial and museum profession; have a demonstrated interest in curating, programming, writing, and research; and possess knowledge of the contemporary art world.
Gallery Associate (Part-time [two regular shifts per week, based on exhibition needs], non-exempt)
Gallery associates serve as MoMA PS1's representatives in the exhibition spaces and facilitate a positive relationship between art, audience, and the museum through compliance with the "Visitor Engagement Policies and Procedures" document. Gallery associates are expected to provide a high level of customer service and develop a strong familiarity with MoMA PS1 history, relevant past exhibitions, long-term installations, programs, and current exhibitions.
Gallery associates report to the supervising coordinator of Visitor Engagement, and additionally take direction from the assistant manager of Visitor Engagement and the senior manager of Visitor Engagement. They also occasionally take direction from Visitor Engagement associates and senior Visitor Engagement associates.
More

information
Requirements
Bachelor's degree or current students preferred, or equivalent experience. Minimum of two years experience in visitor service, hospitality, and/or sales, or an acceptable equivalent combination of education and experience. Excellent customer service and communication skills, including ability to present information effectively in one-on-one and group settings and facilitate positive dialogue with audience. Strong engagement with and knowledge of contemporary artistic practices and/or museums, with interest in critical discourse. Strong observation and awareness abilities, including noticing unusual circumstances, situations requiring attention, and generally being aware of one's surroundings. Demonstrated on-the-spot problem-solving and decision-making ability. Ability to understand and follow verbal and written instructions. Ability to work effectively and collegially as part of larger team and in service of team and institutional goals. Ability to work holidays and weekends as required by exhibitions and special events. MoMA PS1 prioritizes employee safety and promotes safe work practices, which are the responsibility of all employees. The physical demands described here are representative of those that must be met by an employee to successfully perform the essential functions of this job. While performing the duties of this job, the employee is frequently required to stand, walk, talk, or hear. The employee is occasionally required to sit. Specific vision abilities required by this job include distance vision, color vision, and depth perception. The work environment characteristics described here are representative of those an employee encounters while performing the essential functions of this job. While performing the duties of this job, safety is always a priority. The employee is occasionally exposed to wet and/or humid conditions, and outside weather conditions. The noise level in the work environment is usually moderate to occasionally loud.
The Museum of Modern Art job application guidelines
If you would like to submit your resume and cover letter for consideration, please choose one of the following options:
By email: jobs@moma.org (most preferred option)
By fax: (212) 333-1107
By mail: The Museum of Modern Art
The Department of Human Resources
11 West 53 Street
New York, NY 10019
If submitting by email, please send us your resume and cover letter as one document in PDF format.
Please be advised that due to the high volume of applicants, we are able to contact only those candidates whose skills and background best fit the needs of the open positions. Thank you for your interest in employment opportunities at The Museum of Modern Art.
The Museum of Modern Art is an equal opportunity employer and considers all candidates for employment regardless of race, color, sex, age, national origin, creed, disability, marital status, sexual orientation, or political affiliation.
MoMA PS1 job application guidelines
Please send your résumé and cover letter to employment_ps1@moma.org and include the job title in the subject line.
Please be advised that due to the high volume of applicants, we are only able to contact those candidates whose skills and background best fit the needs of the open positions. Thank you for your interest in employment opportunities at MoMA PS1.
MoMA PS1 is an equal opportunity employer and considers all candidates for employment regardless of race, color, sex, age, national origin, creed, disability, marital status, sexual orientation or political affiliation.
Shown: Arthur Young. Bell-47D1 Helicopter. 1945. Manufacturer: Bell Helicopter Inc., Buffalo, NY. Aluminum, steel, and acrylic plastic, 9′ 2 3/4″ × 7′ 11″ × 42′ 8 3/4″ (281.3 × 302 × 1271.9 cm). Marshall Cogan Purchase Fund. Photo: Manuel Martagon