Camera Work: A Photographic Quarterly
1903–17
About the Publication
From 1903 until 1917, Alfred Stieglitz, the most influential figure in American photography, published Camera Work, a luxurious and influential photographic quarterly designed by Edward Steichen. It is known not only for its beautiful photogravures reproducing the fine photographs of the Photo-Secession, but also for its introduction of modern European art to America. Having just broken away from the Camera Club of New York (due to backlash against his exacting aesthetic policies), Stieglitz originally positioned Camera Work as the unofficial organ for the Photo-Secession, the exclusive group of self-consciously artistic photographers he founded in 1902. He devoted entire issues to the work of Secessionists Edward Steichen, Clarence White, and Gertrude Käsebier and showcased works by many others, including Alvin Langdon Coburn. The magazine served as an important platform for debate about photography's aspirations to high art and about the relationship of artistic photography to developments in modern art, especially the recent art from Europe, which gradually infiltrated its pages.

Stieglitz's views of what constituted a viable photographic art evolved during the years spanned by the journal. As he began showing modern art in his gallery, he reproduced prints and drawings by Auguste Rodin, Henri Matisse, and Pablo Picasso in Camera Work, together with reviews and articles by Vasily Kandinsky, Gertrude Stein, and other important thinkers of the era. From an initial commitment to the Pictorialists' soft-focus, heavily manipulated images, Stieglitz gradually developed a theory of "straight photography" under the pressures of the more abstract art coming from Europe, favoring the unmanipulated camera image and tending toward forms of found abstraction. The last issue of the magazine featured a portfolio of Paul Strand's pictures, including a variant of Porch Railings, Twin Lakes, Connecticut (MoMA 1865.2001), which combine direct realistic representation of things, people, and urban scenes with a vision that Stieglitz praised as "brutally direct. Devoid of all flim-flam; devoid of trickery and of any 'ism.'"[1]

—Audrey Sands

[1] Alfred Stieglitz, "Our Illustrations," Camera Work, nos. 49/50 (June 1917): 36.
Language(s)

English

Dates Surveyed

1903–17
Additional Photos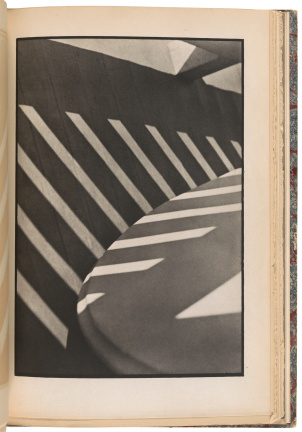 Related Links
Related Events
| | | |
| --- | --- | --- |
| Early 1900s | Subscribes to Camera Work and Photographic Journal of America | New York |
| April 1903 | Camera Work issue no. 2 is dedicated to Edward Steichen's work | New York |
| April 1906 | Camera Work issue no. 14 is dedicated to Edward Steichen's work | New York |
| 1907 | Writes an article on the autochrome process for Camera Work; exhibits autochromes at the Little Galleries of the Photo-Secession in November | New York |
| 1909–13 | Publishes photographs in Camera Work | New York |
| April/July 1913 | Camera Work nos. 42/43, a double issue, is dedicated to Edward Steichen's work | New York |
| January 1915 | Publishes "Impressions of 291" in Camera Work | New York |
| 1915–17 | Contributes to Camera Work quarterly | New York |
| Late 1916 | Johan Hagemeyer travels to New York to meet Alfred Stieglitz, having read about him in Camera Work | New York |
Contributors
Editor

Contributors

Publisher

Walther Artist Referenced