Between 1914 and 1917, Henri Matisse made a series of 69 monotypes, the only works he made in that medium throughout his career. Each of these prints is unique, made by scratching an ink-covered copper plate so that a delicate image emerges through the dense ground. This reductive process, the inverse of the artist's contemporaneous etchings, had a dramatic impact on Matisse's painting style, leading him to simplify outlines, suppress details, and employ the color black. While the monotypes represent only a fraction of Matisse's total printed oeuvre, which includes more than 800 prints and nearly 30 illustrated books, they are of utmost significance for the Museum's collection, exemplifying technical innovation in printmaking and a critical link between this canonical artist's practices across mediums. In the exhibition, the monotypes are paired with etchings chosen for their related subjects or matching plate sizes; the artist often utilized the backs of his etched plates for monotypes. These two new acquisitions are both monotype portraits of the same female sitter, Emma Laforge.
Visit MoMA.org to view all Matisse monotypes in the collection.
Visit MoMA.org to view the related etchings in the collection.
Emma with Long Neck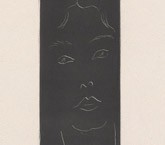 Henri Matisse. Emma with Long Neck I (Emma au long cou I). 1915
Emma's Face Turned to the Left
Henri Matisse. Emma's Face Turned to the Left I (Visage d'Emma tourné à gauche I). 1915