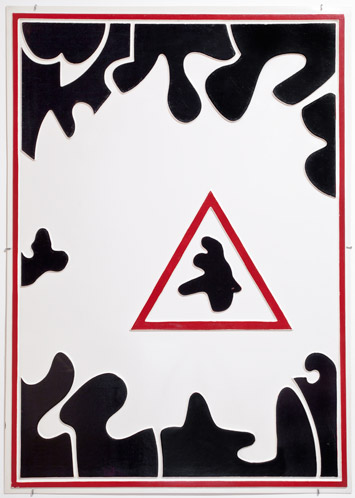 Marcel Broodthaers (Belgian, 1924–1976). Puzzle. 1969. Screenprinted vacuum-formed plastic, 32 15/16 x 23 7/16 x 3/8" (83.6 x 59.5 x 1 cm). Publisher: the artist, Brussels. Printer: unknown, Brussels. Edition: probably 7. Partial gift of the Daled Collection and partial purchase through the generosity of Maja Oeri and Hans Bodenmann, Sue and Edgar Wachenheim III, Marlene Hess and James D. Zirin, Agnes Gund, Marie-Josée and Henry R. Kravis, and Jerry I. Speyer and Katherine G. Farley, 2011. © 2012 Artists Rights Society (ARS), New York / SABAM, Brussels
The Museum of Modern Art's collection of prints was inaugurated with the founding of the Museum itself, in November 1929, when a group of German Expressionist drypoints, lithographs, and woodcuts were among the first objects MoMA acquired. Today, the Museum's holdings in this area are remarkable in their scope; comprising more than 50,000 works (including illustrated books), they cover the period from the late 19th century to the present.
To ensure that the collection reflects a constantly evolving understanding of the past and remains engaged with the present, MoMA's holdings of prints and illustrated books are regularly reevaluated and reshaped by the Museum's curators. Works are routinely added, not only to fill gaps but also to give stronger emphasis to lesser-known or previously overlooked artists or practices, reflecting the ways in which new generations of scholars and artists are redefining the discipline of printmaking.
The exhibition on which this website is based spans more than a century, from 1888 to 2011, and showcases a selection of the prints and illustrated books the Museum has acquired over the past two years. Some acquisitions are contextualized by related works already in the collection. The final state of Pablo Picasso's 1937 print The Weeping Woman, acquired in 2011, filled one of the last major gaps in MoMA's holdings of works by the artist; in the exhibition it is shown alongside the third state of the same image, which joined the collection in 1999. Likewise, the 1958 linoleum cut Solid as a Rock (My God Is Rock), by Charles White, acquired in 2010, is complemented by a lithograph by White that was donated to the Museum more than 40 years ago; on view at the Museum for the first time, it illuminates White's widespread impact on a younger generation of artists.
An art collection is always a work in progress, the result of shifting perceptions of movements, regions, periods, and individual artists' practices. The works in this exhibition are testimony to the continual innovation of artists in printmaking and the commitment of the donors whose support allows the Museum to stay at the forefront of the field.