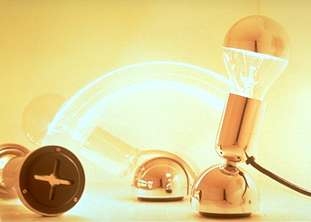 Ingo Maurer.
Pollux Table lamp. 1967
Chromed steel,
h. 7 2/3" (h. 20 cm)
Manufactured by Ingo Maurer GmbH.
Lent by Ingo Maurer GmbH.
Photo: Tom Vack, courtesy Ingo Maurer

Pollux, another celebration of the bare light bulb, consists of a simple support for the bulb which swivels on its axis producing an adjustable light source.




© 1998 The Museum of Modern Art, New York