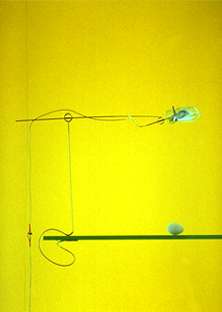 Los Minimalos Dos.
Table lamp. 1994
Stainless steel, spun steel, and aluminum,
h. 23 1/2 x 15 1/2-29 1/3"
(h. 60 cm x 40-75 cm)
Manufactured by Ingo Maurer GmbH
Lent by Ingo Maurer GmbH.
Photo: Tom Vack, courtesy Ingo Maurer

Los Minimalos Dos is part of a three-piece series of lamps which also includes Los Minimalos Uno and Los Minimalos Tres. They all share the same light source, a halogen bulb concealed by a reflector and surrounded by a spun-steel case, yet they differ in support. For example, this second piece is fitted with a spring clip which allows it to be attached to table tops. The movable telescope arm extends, and the reflector angle is also adjustable. The lamp is powerful, yet subtle in form.




© 1998 The Museum of Modern Art, New York