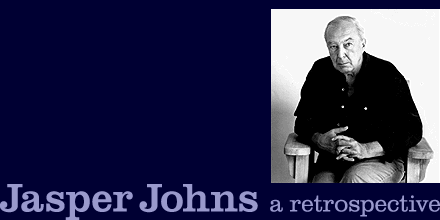 October 20, 1996 – January 21, 1997

The life's work of an artist who has had a profound influence on American art was featured in this, the first full retrospective of Jasper Johns's work since 1977. Included in this comprehensive chronological survey were more than 225 paintings, drawings, prints, and sculptures. These works, many from private collections including Johns's own, span more than forty years; a number of the recent images had never before been shown publicly.

Johns's art unites mastery, mystery, simplicity, and contradiction. His methodical working process combines intense deliberation and experimentation, obsessive craft, cycles of revision and repetition, and decisive shifts of direction. Johns also frequently borrows images from other artists, which, ironically, only underscores the originality of his own vision.

The exhibition opened with work from the mid–1950s: paintings of flags, targets, and numbers that seemingly sounded the death knell for Abstract Expressionism. Although Johns has been hailed as the father of Pop art and Minimalism, the loosely gestural abstractions of 1959–60 and the moodier gray imagery of the fragmented human form in 1961–64 reflect the choice of a different path.

Johns's work with allover patterns of abstract "hatch-mark" strokes in the 1970s was represented with seldom-seen masterworks such as Scent (1973–74) and Weeping Women (1975). His shift to realist figuration after 1980, and his concern with the work of other artists and with autobiography, was chronicled through individual paintings, pairs, and groups of works. The four reunited Seasons paintings (1985–86) offered an allegory of the artist's life up to 1986. Concluding the show were two new, monumental canvases from 1994 and 1995 that seem to synthesize a densely layered, dreamlike reflection on the four decades of this most remarkable, and consistently influential, career. The exhibition was organized by Kirk Varnedoe, Chief Curator, Department of Painting and Sculpture.


The exhibition was sponsored by Philip Morris Companies Inc.

Additional support was provided by the National Endowment for the Arts. An indemnity for the exhibition was granted by the Federal Council on the Arts and the Humanities. The publications accompanying Jasper Johns: A Retrospective were made possible by a generous gift from Emily Fisher Landau. The booklet accompanying Jasper Johns: Process and Printmaking was made possible by grants from The Contemporary Arts Council and The Junior Associates of The Museum of Modern Art, The Associates of the Department of Prints and Illustrated Books, and Arthur and Susan Fleischer, Jr. The presentation of Jasper Johns: A Retrospective at the Museum Ludwig, Cologne, is supported by Ford Motor Company.







Photo: Jack Shear
©1997 The Museum of Modern Art, New York