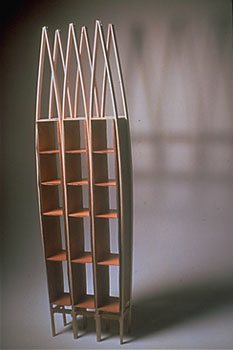 4. Jurgen Bey and Jan Konings, born 1965 and 1966
Folding Bookcase, 1993 (1991)
Plywood, craftpaper
Droog Design collection, manufactured by DMD, Voorburg
Lent by DMD
88 x 10 1/4 x 23 5/8" (220 x 26 x 60 cm)
Photo by Marsel Loermans, courtesy DMD

Made of paper and wood, when folded up this bookcase is scarcely five inches wide. It expands when filled with books, and is designed to accommodate the exact quantity of books in it at any given time.