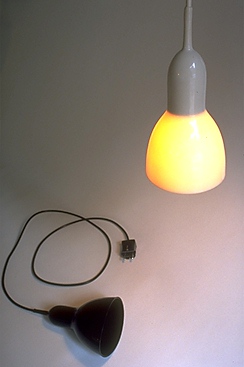 5. Arian Brekveld, born 1968
"Soft Lamps," 1995 (1995)
PVC
Droog Design collection, manufactured by DMD, Voorburg
Lent by DMD
8 1/2 x diam. 4 1/2" (21 x diam. 11 cm)
Photo by Feddow Claassen, courtesy DMD

The supple electrical wire seems to flow seamlessly into a flexible plastic hood that protects the glow of a soft light. The lamp is produced by means of an innovative application of the traditional dipping technique used for PVC.