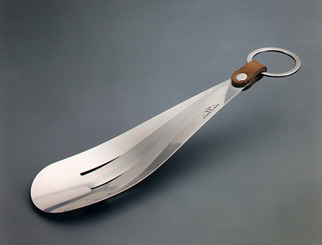 3. Charles Bergmans, born 1950
"Terra Plana" Shoehorn, 1988 (1988)
Steel, leather
Manufactured by Shoe Design Studio, Sprang-Capelle
Lent by Shoe Design Studio
6 1/4" (16 cm)
Photo by Ries van Hulten, courtesy Charles Bergmans

A very thin steel plate is die-cut, and its four upper strips are held together to obtain the shape of a shoehorn. A small leather strip and a steel ring are the only addition to the main body of the shoehorn.