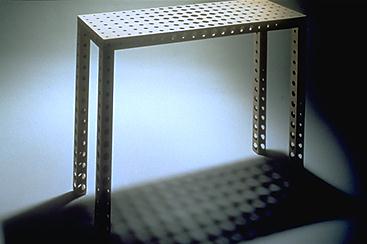 2. Gijs Bakker, born 1942
"Fruittable," 1993 (1993)
Maplewood
Manufactured by Gijs Bakker
Lent by Droog Design, Amsterdam
31 1/2 x 41 3/4 x 13 5/8" (80 x 105 x 35 cm)
Photo by Hans van der Mars, courtesy DMD

The table is part of "Hole Project," a collection of perforated objects which also includes wallpaper, a vase, a cake, a chair, a candlestick, a bracelet, and a tablecloth. The holes are strategically placed to make the table light in form and weight without affecting its strength.