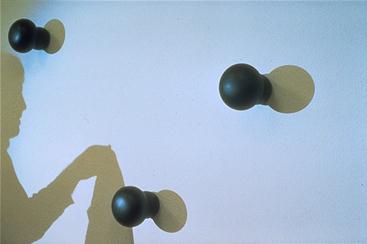 1. Ed Annink, born 1956
"Knob Ob" Coat Hooks, 1994 (1992)
Soft polyurethane
Droog Design collection, manufactured by DMD, Voorburg
Lent by DMD
5 1/8 x 6" (13 x 15 cm)
Photo by Henry Brekveld, courtesy DMD

The coat hook is reduced to its simplest form, a large knob attached to the wall. The soft polyurethane and the rounded shape of the hooks guarantee the safety of the clothes hung. The knobs are available in red and black.