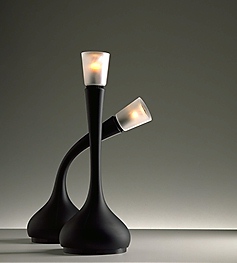 19. Ronald Meijs, born 1962
"Pino" Table Lamp, 1994 (1993)
Pur foam, polycarbonate, metal, glass
Manufactured by Lumiance bv, Haarlem
Lent by Lumiance bv
20 x diam. 7 1/8" (51 x diam. 18 cm)
Photo by Chris Hoefsmit, courtesy Lumiance bv

The slightly exaggerated proportions make the table lamp endearingly plump. The same lamp can also be wall-mounted on a supplied bracket. It has an integral transformer and a three-position switch in the base.