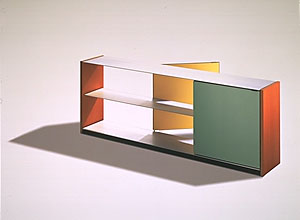 20. Ninaber/Peters/Krouwel
"Perception" Cabinet System, 1993 (1992)
Aluminum extension profiles, stands and doors; multiplex with beech veneer or diafos
Manufactured by UMS-Pastoe, Utrecht
Lent by UMS-Pastoe
32 3/4 x 92 1/2 x 15" (83 x 235 x 38 cm)
Photo by Gerrit Schreurs, courtesy UMS-Pastoe

An extruded aluminum section has been developed with which long spans can be obtained without the shelves sagging. This makes the system flexible and transparent, with strong horizontal lines. A special elastic hinge intelligently allows the doors to open to 180 degrees.