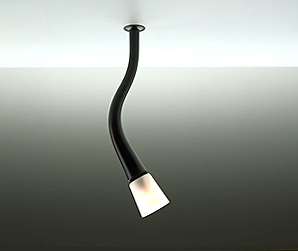 18. Ronald Meijs, born 1962
"Primostar Pino" Lamp, 1994 (1993)
Pur foam, polycarbonate, metal, glass
Manufactured by Lumiance bv, Haarlem
Lent by Lumiance bv
13 1/4 x diam 3" (34 x diam. 7.5 cm)
Photo by Chris Hoefsmit, courtesy Lumiance bv

The Pino lamps are flexible and their necks can be adjusted to many different positions. The rubber neck flows into the glass portion of the lamp elegantly.