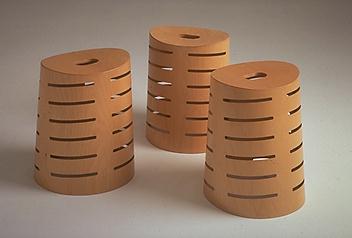 17. Ruud Jan Kokke, born 1956
"Stapelhocker, Model TC" Stool, 1991 (1990)
Birch plywood
Manufactured by Designum, Laag Keppel
The Museum of Modern Art, gift of the manufacturer and Kikkerland Design, Inc., USA
16 15/16 x 14 5/8 x 12 1/8" (43 x 37.2 x 30.8 cm)
Photo by Studio Voorhuis, courtesy Ruud Jan Kokke

Made of aircraft plywood, the walking stool can be picked up by the handle cut in its seat, and carried around. The optimal amount of wood used makes it very light, and the conical form makes it stackable.