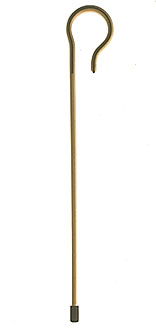 16. Ruud Jan Kokke, born 1956
"Kokkestok" Walking Stick, 1995 (1994)
Rubber, beech plywood, steel insert
Manufactured by Becker K.G., Brakel, Germany
Lent by Ruud Jan Kokke, Oosterbeek
37 x 1 1/4 x 5 1/2" (95 x 2.9 x 14 cm)
Photo by Henk Gerritsen, courtesy Ruud Jan Kokke

A walking stick is supposed to be helpful, but more often than not it becomes a nuisance. It slips down the wall, falls off the edge of the table, or drops off your arm where you hung it when you needed both hands free. This walking stick takes these problems into account. The rubber strip stops it from slipping and the handle is shaped to balance where hung. The form, reminiscent of the shepherd's staff, is attractive and ensures it really does stay put over your arm or the arm of your chair. The stick is strong and comes with an extra cap fitted with a steel spike for winter.