Posts tagged 'Yasujiro Ozu'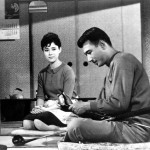 These notes accompany the screenings of Yasujiro Ozu's
Tokyo Story
on July 11, 12, and 13.
The writings of Andrew Sarris, who died June 20, are the inspiration for this series, and it is dedicated to him.
If you are interested in reproducing images from The Museum of Modern Art web site, please visit the Image Permissions page (www.moma.org/permissions). For additional information about using content from MoMA.org, please visit About this Site (www.moma.org/site).
© Copyright 2016 The Museum of Modern Art