Posts tagged 'Witte de With'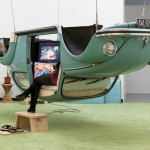 Open-endedness, self-reflexivity, discursiveness—together, these characteristics define one strain of thinking about arts institutions and the features that make them relevant to society.
If you are interested in reproducing images from The Museum of Modern Art web site, please visit the Image Permissions page (www.moma.org/permissions). For additional information about using content from MoMA.org, please visit About this Site (www.moma.org/site).
© Copyright 2016 The Museum of Modern Art