How you set your holiday table can be just as fraught as the great Thanksgiving food debates—canned cranberry sauce vs. real, sweet potato pie vs. pumpkin pie, stuffing cooked in the bird or in a pan. In my family, the size of our group prohibits the formal elegance of a matched dinner service, and instead every pan, dish, and utensil is put to use. The hodgepodge is really quite charming, and what I love in particular are the pieces that only grace us with their presence at these official family gatherings—my grandmother's aluminum roasting pan, for instance, which has probably seen at least twice as many Thanksgiving dinners as I have. To celebrate this annual showcase of dining accoutrements I've selected some pieces from MoMA's Architecture and Design collection that would enhance any Thanksgiving table.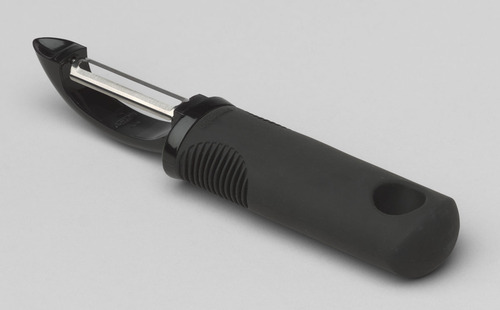 Smart Design, New York. Good Grips Peeler. 1989. Stainless steel and rubber. Manufactured by Oxo International
A behind-the-scenes workhorse—how many potatoes, yams, and carrots did you peel today?—this vegetable peeler has become a standard fixture in kitchens around the world. Sam Faber, a retired kitchenware manufacturer, was inspired to create a line of comfort-grip kitchen tools after his wife developed arthritis. Working with Smart Design Inc., Faber launched the original 15-piece Good Grips collection, with handles based on gardening tools and prototyped using bicycle handlebar grips, through Oxo International.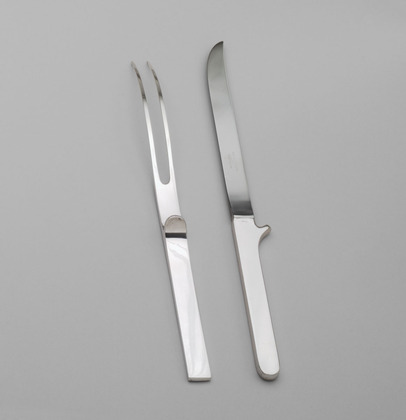 Vico Magistretti. Two-Piece Carving Set, 1980. Sterling silver. Manufactured by Cleto Munari, Venice
Whoever has the honor of carving the bird at your table would probably appreciate this sterling-silver set by Italian deisgner Vico Magistretti. (You may also be familiar with his iconic Eclisse Table Lamp). The minimalistic design, with only a curved thumb-piece interrupting the sleek lines of the handle, reflects the architectural influence that was prevalent throughout the 1980s.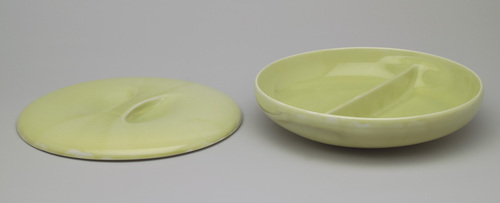 Russel Wright. Casual China Casserole Dish. 1946. Glazed vitreous china. Manufactured by Iroquois China Co.
Russel Wright was a successful American industrial designer; his American Modern dinnerware was the best-selling line ever created, with over 80 million pieces sold from 1939 to 1959. Wright, along with his wife Mary, not only designed clean-lined, colorful ceramics that were a major change from traditional porcelain services, but also excelled at marketing his products for modern, casual lifestyles. The couple even wrote a how-to book that promoted easy entertaining tips like buffet-style dinners. A stove-to-table casserole dish like this one—in a period-appropriate shade of chartreuse—would be just the thing for baking and serving a green bean casserole.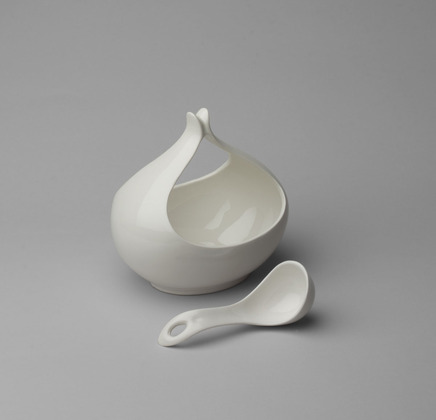 Eva Zeisel. Hallcraft/Tomorrow's Classic Sauce Boat with Ladle. c. 1949–50. Glazed earthenware. Manufactured by Hall China Co.
The sculptural, organic lines and pure white of this sauce boat and ladle are the perfect embodiment of designer Eva Zeisel's style (in contrast to Russel Wright's colorful mix-and-match serving pieces). Beloved by the design world, Zeisel's work never seems to look dated—which might explain why so many of her pieces are still in production today.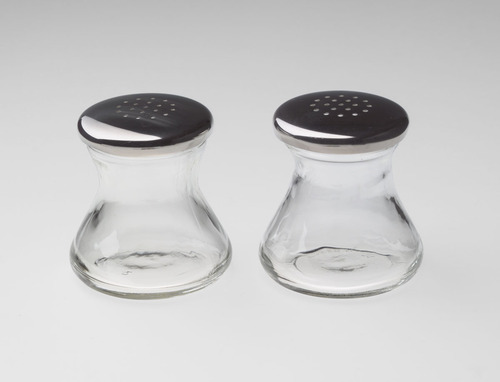 Wilhelm Wagenfeld. Salt and Pepper Shakers. 1953. Manufactured by Württembergische Metallwarenfabrik
Bauhuas-trained designer Wilhelm Wagenfeld promoted standardized, functional forms in order to elevate mass produced goods. The thoughtful proportions of these salt and pepper shakers are accentuated by the minimal design (somewhat reminiscent of a scientific beaker) and use of industrial materials (stainless steel and glass). And best of all, they're for sale at MoMAstore.org.



12-Cut Pie Marker. 1950s. Cast aluminum. Unknown Italian Manufacturer
This round-up ends exactly where it should: with dessert. Ensuring that everyone gets an equal slice? If you value Thanksgiving-table harmony, you should probably considering getting one of these. Now you just have to decide what type of pie it's going to be? Apple? Pumpkin? Sweet potato? Personally, I'm going with pecan.
Happy Thanksgiving!