Posts tagged 'Ray Harryhausen'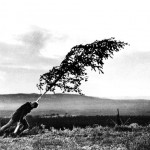 It was love at first sight for Tim Burton and stop-motion animation. At an early age, Burton was drawn to films such as Nathan Juran's 20 Million Miles to Earth (1957) and Don Chaffey's Jason and the Argonauts (1963), which featured innovative animation by special effects master Ray Harryhausen. Burton responded to the sense of wonder the technique conjured in its audiences and was inspired to create his own stop-motion animated films, such as a 1971 super-8mm short featuring cavemen and dinosaur figures (on view in the MoMA gallery exhibition) that invokes When Dinosaurs Ruled the Earth (1970, directed by Val Guest, and animated by Jim Danforth).
If you are interested in reproducing images from The Museum of Modern Art web site, please visit the Image Permissions page (www.moma.org/permissions). For additional information about using content from MoMA.org, please visit About this Site (www.moma.org/site).
© Copyright 2016 The Museum of Modern Art