Posts tagged 'Philip Guston'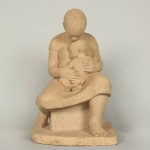 This past summer, the Museum acquired an important sculpture by the African American artist Elizabeth Catlett (b.1915).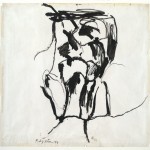 The 1958 Philip Guston drawing Head – Double View is currently on view in The Big Picture, the fourth-floor installment of MoMA's Abstract Expressionist New York exhibition. One floor down, in the complementary show Ideas Not Theories: Artists and the Club, 1942-1962, the black-on-white composition appears again, this time on the cover of an album by the American composer Morton Feldman. Feldman—who was friends with many of the artists associated with the New York School, Guston in particular—featured the drawing on the jacket of his 1959 Columbia Masterworks release New Directions in Music 2.
If you are interested in reproducing images from The Museum of Modern Art web site, please visit the Image Permissions page (www.moma.org/permissions). For additional information about using content from MoMA.org, please visit About this Site (www.moma.org/site).
© Copyright 2016 The Museum of Modern Art