Posts tagged 'Nottingham Contemporary'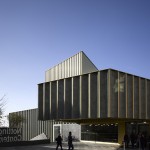 Outfitted with my heavily detailed itinerary, an exhaustive list of current exhibitions, and at least one pair of "sensible walking shoes," I boarded my plane to London. As a 12-month intern at MoMA, I had received a travel grant to broaden my understanding of a specific area of the museum world.
If you are interested in reproducing images from The Museum of Modern Art web site, please visit the Image Permissions page (www.moma.org/permissions). For additional information about using content from MoMA.org, please visit About this Site (www.moma.org/site).
© Copyright 2016 The Museum of Modern Art