Posts tagged 'Luis Buñuel'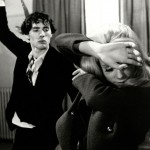 These notes accompany the French Avant-Garde of the 1920s program, screening April 14, 15, and 16 in Theater 3.
Charles Sheeler comes to mind as one of the few American artists who dabbled in film in the 1920s. Whereas in Germany the mainstream Expressionist cinema was itself avant-garde, and in Italy the society became surreal following Mussolini's rise to power in 1922, France presented a unique instance of a free interplay of filmmakers with other visual artists. This program is an attempt to capture some of this interaction and to suggest how it might have benefited French culture. It also suggests that a society where the movies were totally dominated neither by commerce nor by the state provided an appealing model. It was certainly beneficial to Iris Barry, the founder of The Museum of Modern Art Film Library, to be able to cite names like Man Ray, Duchamp, Léger, and Dalí in establishing the high aspirations and legitimacy of film when appealing for funds from patrons who might look askance at Douglas Fairbanks, Charles Chaplin, or Walt Disney. (It was left for us future generations to make cogent arguments for Otto Preminger, Clint Eastwood, and John Waters.)
If you are interested in reproducing images from The Museum of Modern Art web site, please visit the Image Permissions page (www.moma.org/permissions). For additional information about using content from MoMA.org, please visit About this Site (www.moma.org/site).
© Copyright 2016 The Museum of Modern Art