Posts tagged 'Joan Snyder'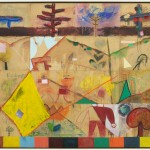 A new installation in the galleries brings together a diverse group of works from the late 1960s and 1970s, a moment when many artists radically reexamined the medium of painting.
If you are interested in reproducing images from The Museum of Modern Art web site, please visit the Image Permissions page (www.moma.org/permissions). For additional information about using content from MoMA.org, please visit About this Site (www.moma.org/site).
© Copyright 2016 The Museum of Modern Art