Posts tagged 'Georges Franju'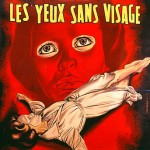 These notes accompany screenings of Experimental French Documentaries on February 27 and 28, and March 1 in Theater 3.
As indicated on MoMA's film calendar, the films in this program represent a kind of hybrid nature, suspended somewhere between experimental/poetic and documentary.
If you are interested in reproducing images from The Museum of Modern Art web site, please visit the Image Permissions page (www.moma.org/permissions). For additional information about using content from MoMA.org, please visit About this Site (www.moma.org/site).
© Copyright 2016 The Museum of Modern Art