Posts tagged 'Emma Lu Davis'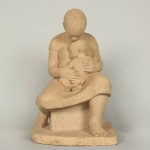 This past summer, the Museum acquired an important sculpture by the African American artist Elizabeth Catlett (b.1915).
If you are interested in reproducing images from The Museum of Modern Art web site, please visit the Image Permissions page (www.moma.org/permissions). For additional information about using content from MoMA.org, please visit About this Site (www.moma.org/site).
© Copyright 2016 The Museum of Modern Art