At the center of the St. Petersburg art controversy is TIMOR NOVIKOV. He laughingly proclaims that the movement he founded, Neo-Academism, is a "strong and dangerous conservative movement." He recently published a magazine, Artistic Will, celebrating one hundred years of whatever you want. "It depends," Novikov adds.
Neo-Academist artists with hatchets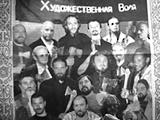 Novikov at home. In the background are elegant banners of fabric, framing cameo images.


The heads that these hatchet men are after belong to Richard Serra and Joseph Beuys, whom they believe champion ugliness in art. Novikov rails against Serra's monstrous metal slabs and the junk that Beuys assembles in his work. Beauty, tradition, classical images, this is what art would be about if Novikov were Tsar. Yet at one time, during act one of his career, Novikov was known as the most radical artist in St. Petersburg.