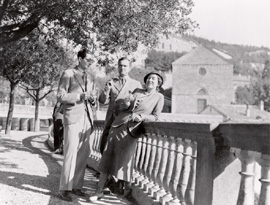 Margaret Scolari Barr, born in Rome to Irish and Italian parents, studied linguistics at the University of Rome. After earning a master's degree in art history from Vassar College, in 1929 she moved to New York City to study at New York University. She met Alfred H. Barr, Jr., the Museum's founding director, that year, shortly after the institution's debut, and the two were married in 1930. Over the following decade the couple spent summers traveling in Europe, organizing future exhibitions at MoMA and securing the necessary loans of artwork. In summer 1940, after the fall of Paris to the Germans, Alfred began to receive desperate letters from European artists asking for assistance with emigration to the United States. "I had worked as my husband's assistant during all of our European campaigns," Barr said, "so I was not surprised when one evening he came home with a sheaf of requests and asked me to undertake the whole operation. I would do the work, and he would sign the letters that I would write on his official Museum stationery."
1
The process of obtaining the appropriate papers from the State Department was extremely laborious, but in the end Barr's work facilitated entry to the United States for Marc Chagall, Max Ernst, Jacques Lipchitz, André Masson, Piet Mondrian, and Yves Tanguy. For thirty-seven years she taught art history at The Spence School in New York, and in 1963 the Museum published
Medardo Rosso (1858–1928)
, Barr's definitive monograph on the Italian modernist sculptor.
1 Margaret Scolari Barr, typescript, "Rescuing Artists in W.W. II," January 7, 1980. The Museum of Modern Art Archives, New York.