---
---
Soundings: A Contemporary Score
August 10–November 3, 2013
MoMA's first major exhibition of sound art presents work by 16 of the most innovative contemporary artists working with sound. While these artists approach sound from a variety of disciplinary angles—the visual arts, architecture, performance, computer programming, and music—they share an interest in working with, rather than against or independent of, material realities and environments. These artistic responses range from architectural interventions, to visualizations of otherwise inaudible sound, to an exploration of how sound ricochets within a gallery, to a range of field recordings—including echolocating bats, abandoned buildings in Chernobyl, 59 bells in New York City, and a sugar factory in Taiwan.
The diversity of these works reflects a complex and nuanced field. Yet the exhibition posits something specific: that how we listen determines what we hear. Indeed, the works provoke and evoke—both in the maker and the museumgoer—modes of active listening, and a heightened relationship between interior and exterior space. At a time when personal listening devices and tailored playlists have become ubiquitous, shared aural spaces are increasingly rare. Many of the artists in the exhibition aim for such realities, and the sound they create is decidedly social, immersing visitors and connecting them in space. In many of the works, links are drawn between disparate topographies and subjects, giving rise to new understanding and experiences.
The artists in the exhibition are Luke Fowler (Scottish, b. 1978), Toshiya Tsunoda (Japanese, b. 1964), Marco Fusinato (Australian, b. 1964), Richard Garet (Uruguayan, b. 1972), Florian Hecker (German, b. 1975), Christine Sun Kim (American, b. 1980), Jacob Kirkegaard (Danish, b. 1975), Haroon Mirza (British, b. 1977), Carsten Nicolai (German, b. 1965), Camille Norment (American, b. 1970), Tristan Perich (American, b. 1982), Susan Philipsz (Scottish, b. 1965), Sergei Tcherepnin (American, b. 1981), Hong-Kai Wang (Taiwanese, b. 1971), Jana Winderen (Norwegian, b. 1965), and Stephen Vitiello (American, b. 1964).
---
Christine Sun Kim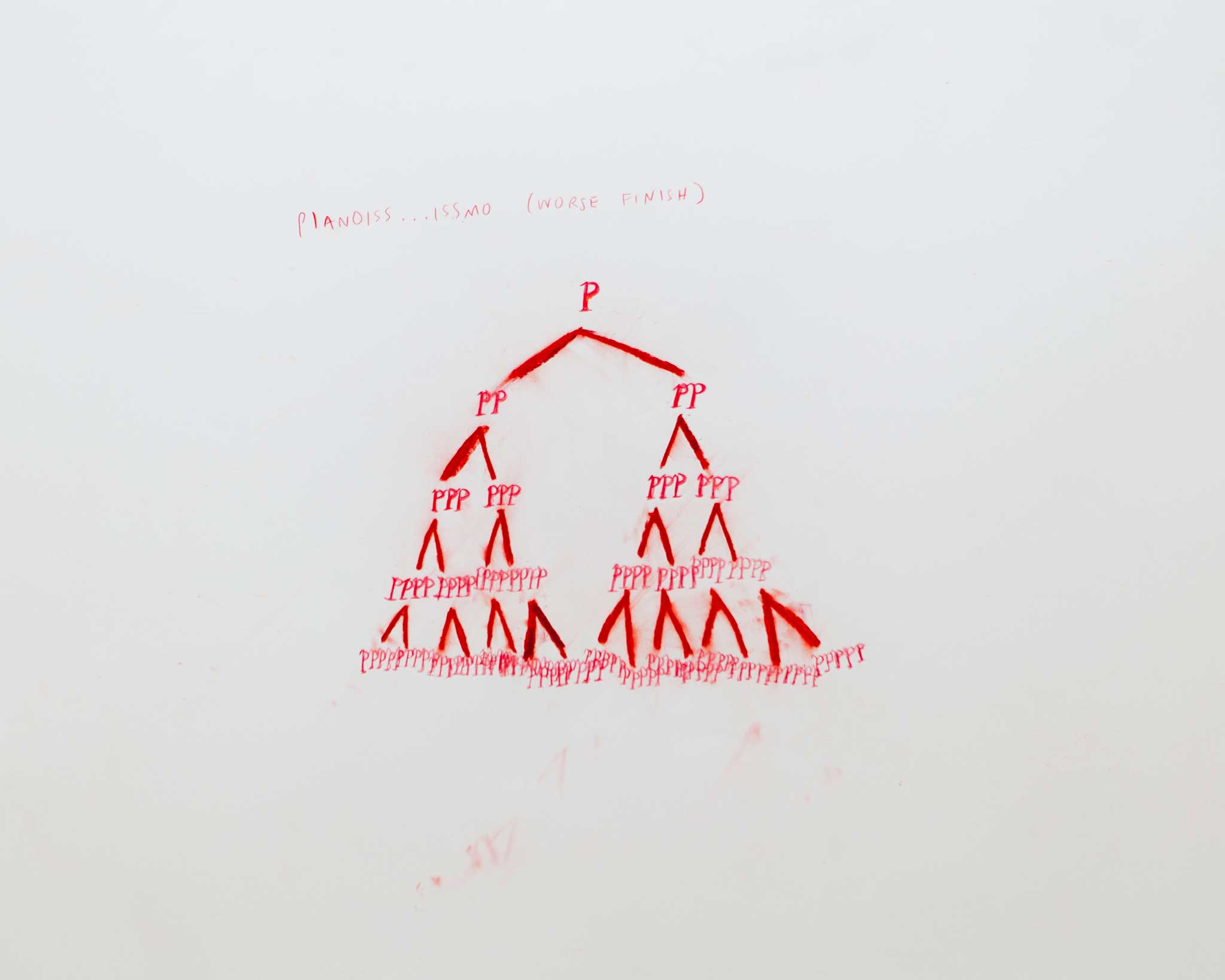 In her series Scores and Transcripts, Sun Kim—who was born deaf—combines and transforms the various types of notation that shape her understanding and communication: among them, American Sign Language, musical notation, English vernacular, and body language. To her, each of these has its own parameters, social value, and set of rules. In the drawings, these grammars and languages rub up against each other, allowing for the examination of their similarities and differences and shifting her personal relationship to them.
In All. Day. the artist has traced the path her hand would take to communicate the concept "all day" in American Sign Language—an arc that mirrors the movement of the sun. The central annotation is a rest bar (the musical symbol for a silent interval), and adjacent to this she has written the number 126,144,000, which is an approximate calculation of how many rest bars would add up to the thirty-two years of silence she had experienced at the time she made this drawing.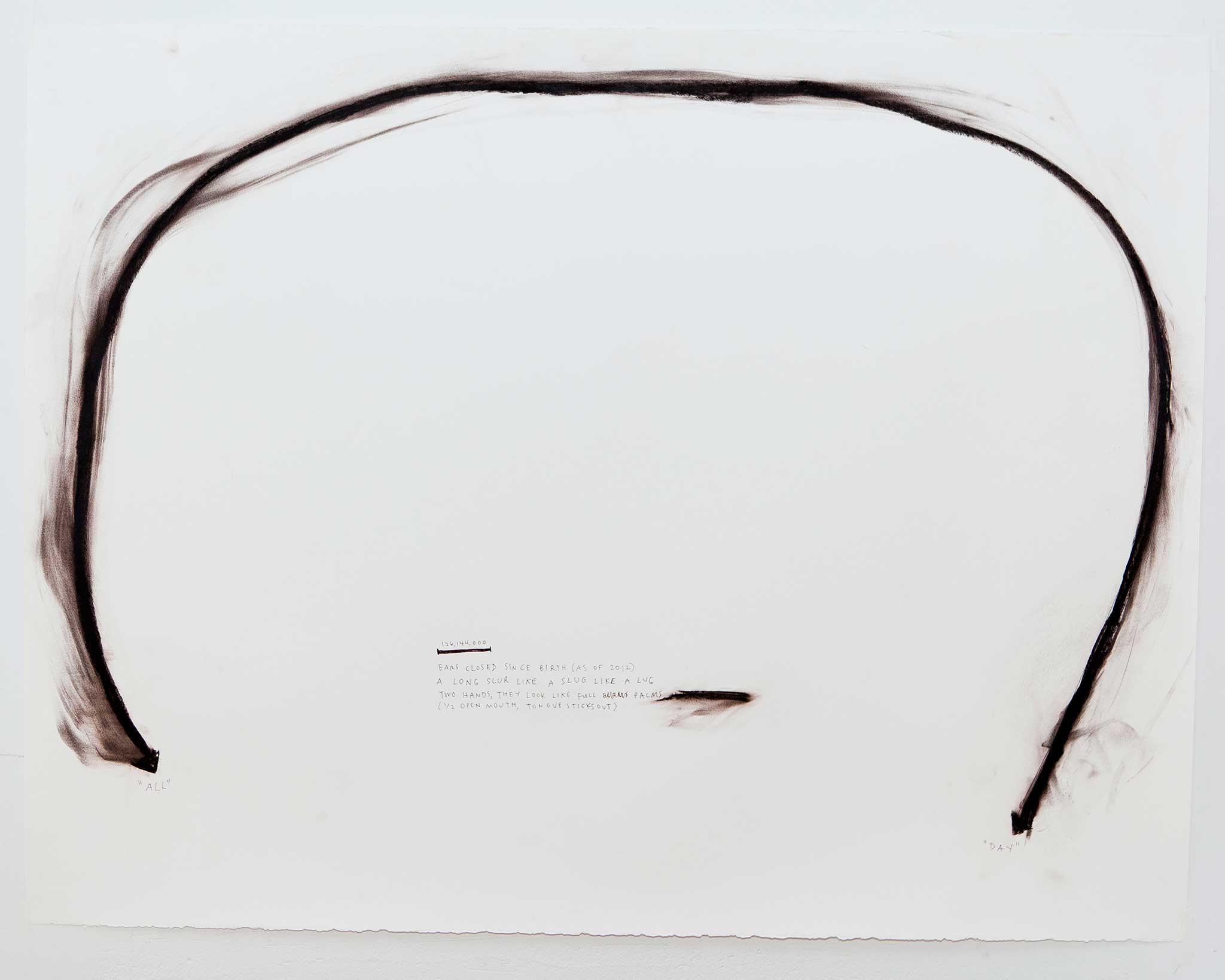 Words from the artist:
This work is a re-enactment of the unconscious sound I make while concentrating. I often employ my own voice in my work. I can feel it inside of my body, and in this way it is accessible to me.
My partner, Thomas Benno Mader, notices "a very heavy weight" on my chest when I make this sound; he describes it as if I have to "fight to get the air in and out" whenever I am focused. He calls it "concentration suffocation," as I seem to hold my breath as I make this sound. His description intrigued me because I constantly physically feel all kinds of sound coming out of my vocal chords, but whenever I'm not conscious of my own voice box, I make a completely different set of sounds that I am neither aware of nor able to feel. I asked Mader to describe my unconscious sound in a short text. I then attempted to re-enact his description like one would re-enact a murder scene with actors and props.
Because it is impossible to fully replicate the circumstances in which I would normally make this unconscious noise, my re-enactment easily becomes a misinterpretation of my own voice. I'm beginning to think I have two voices, like two different realities that are far from each other, but in the same place.
---
---