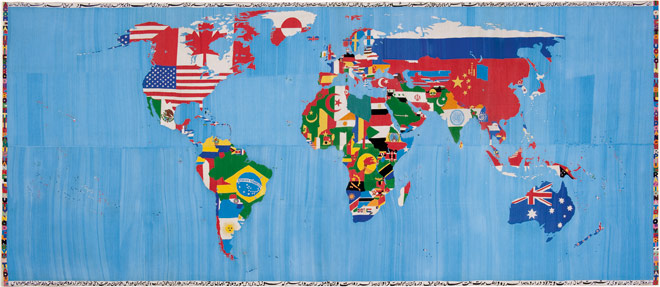 Alighiero Boetti (Italian, 1940–1994) began making art in his hometown of Turin in the early 1960s, against the backdrop of a resurgent postwar industrial society. He rose to prominence in the context of Arte Povera, a movement of young Italian artists attempting to create a new sculptural language through the use of humble, everyday materials. After the student protests of 1968, which brought about an increasing radicalization of Italian society and politics, Boetti removed himself from the politicized atmosphere of Northern Italy and moved to Rome, far from the artistic centers of Turin and Milan. He abandoned Arte Povera and began anew with conceptual works employing existing systems and simple structures, often expressed through drawings and collages. Boetti frequently traveled to distant places, most importantly to Kabul, Afghanistan, where he returned many times between 1971 and 1979 (when the Soviet invasion made travel to the country impossible). There he discovered a rich tradition of weaving and embroidery, and his collaborations with local artisans are among his most iconic works.
Throughout his career, Boetti experimented with a wide variety of processes, materials, subjects, and styles, and he often incorporated chance and invited collaboration. Nonetheless, his work was guided by a consistent set of philosophical principles, often conceived in opposing or differing pairs. Notions of order and disorder, duality and multiplicity, travel and geography, time and space, and intention and chance permeate Boetti's projects, finding expression in conceptual works made using the postal service, brightly colored embroideries created with the help of Afghan artisans, and large-scale drawings that deploy mathematical systems and formal operations of chance or spell out his ideas in poetic puns. Dynamic and charismatic, Boetti brought his preoccupation with opposites into his artistic persona, signing many of his works as the twin characters "Alighiero e Boetti" (Alighiero and Boetti): one who responded to the rational side of the world and another who embraced its irrational aspects. In this vein, many of Boetti's works can be understood as self-portraits as well as elaborate word games in which the artist is reflecting on his place in the world and on how to describe the world in his work.
Organized roughly chronologically, Alighiero Boetti: Game Plan (on view July 1–October 1, 2012) presents both the diversity and the consistency of Boetti's practice; it also illustrates his idea that the artist, rather than inventing new objects, simply points to what already exists in the world in order to give it new meaning. Articulated through pithy phrases such as "bringing the world into the world" and "giving time to time," Boetti's guiding principles are the thematic threads that carry through the exhibition.
Pictured above: Mappa (Map). 1989–94. Embroidery on fabric. 100 x 231 1/2" (254 x 588 cm). Collection Giordano Boetti, Rome © 2012 Estate of Alighiero Boetti/Artists Rights Society (ARS), New York/SIAE, Rome