Indian Warrior
1931
Fresco on reinforced cement in a metal framework, 41 x 52 1/2" (104.14 x 133.35 cm). Smith College Museum of Art, Northampton, Massachusetts. Purchased with the Winthrop Hillyer Fund. © 2011 Banco de México Diego Rivera & Frida Kahlo Museums Trust, México, D.F./Artists Rights Society (ARS), New York. SC 1934:8-1
Of all the panels Rivera made for The Museum of Modern Art, Indian Warrior reaches back farthest into Mexican history, to the Spanish Conquest of the early 16th century. An Aztec warrior wearing the costume of a jaguar stabs an armored conquistador in the throat with a stone knife. The Spaniard's steel blade—an emblem of European claims to superiority—lies broken nearby. Jaguar knights, members of an elite Aztec military order, were known for their fighting prowess; according to legend, their terrifying costumes enabled them to possess the power of the animal in battle. The panel's jarring vision of righteous violence offered a Mesoamerican precedent for Mexico's recent revolution, as well as its continuing struggles.
Indian Warrior is a near replica of a scene from Rivera's mural cycle at the Palacio de Cortés in Cuernavaca, Mexico. The portable mural's source panel illustrates a brutal battle between the Aztecs and the Spaniards, an image inspired by the city's pre-Columbian history. In April of 1521, the Spanish conquistador Hernán Cortés fought a fierce battle at Cuernavaca in his drive to encircle, and eventually overtake, the Aztec capital of Tenochtitlán.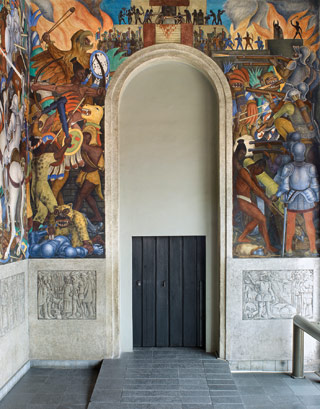 Diego Rivera. North wall of the mural cycle History of the State of Morelos: Conquest and Revolution. 1930. Fresco, approx. 19' 10 3/16" x 15' 9 3/4" (6.05 x 4.82 m). Palacio de Cortés, Museo Regional Cuauhnáhuac, Instituto Nacional de Antropología e Historia, Cuernavaca, Mexico. © 2011 Banco de México Diego Rivera & Frida Kahlo Museums Trust, México, D.F./Artists Rights Society (ARS), New York. Photograph © 2011 Eumelia Hernández, Ricardo Alvarado; Instituto Nacional de Bellas Artes
The details of Aztec culture in Indian Warrior, such as the jaguar knight's costume, reflect Rivera's extensive study of pre-Columbian art. In part, the artist's knowledge of Aztec culture was based on reproductions of post-Conquest books, such as the Codex Mendoza, a 16th-century manuscript commissioned by Spanish royal officials during the tenure of Viceroy Antonio de Mendoza and executed by Indian scribes. Rivera believed that historical research was essential to making pictures that would persuade his audience of the validity of his political statements.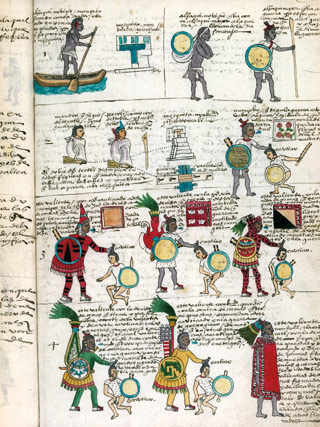 Page from the Codex Mendoza. c. 1541–52. MS. Arch. Selden. A.1. fol. 64r. The Bodleian Libraries, University of Oxford, U.K.
Rivera was an avid collector of pre-Columbian art and artifacts, and he studied objects in ethnographic collections carefully. In Indian Warrior, the jaguar knight's knife references stone blades commonly used by Mexico's native people. The weapon in the fresco is relatively simple, of a type used for hunting or warfare, but stone knives could be impressively ornate, equipped with figurative handles covered with mosaics of colorful shells and stones.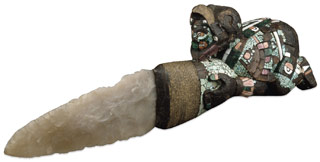 Sacrificial knife. Aztec or Mixtec. 15th–16th CE. Chalcedony blade, carved wood handle with mosaic of turquoise, shell, and malachite. Length: 12.5" (31.7 cm). British Museum, London, Great Britain. © The Trustees of the British Museum/Art Resource, New York
While focused on a specifically Mexican subject, Indian Warrior also demonstrates Rivera's intimate knowledge of European artistic traditions. During the winter of 1920 and the following spring, Rivera traveled through Italy, studying the works of Renaissance masters and the technique of fresco painting. His dramatically foreshortened conquistador recalls Italian Renaissance experiments with linear perspective and foreshortening, such as Andrea Mantegna's Lamentation of Christ of the 15th century.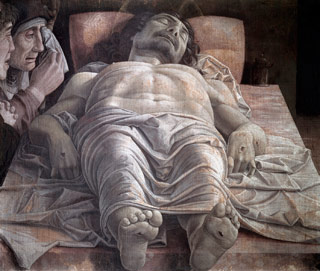 Andrea Mantegna (Italian, 1431–1506). The Lamentation of Christ. c. 1480. Tempera on canvas. 27 x 32" (68 x 81 cm). Pinacoteca di Brera, Milan, Italy. Photograph by Scala/Art Resource, New York
For Mexican viewers of the early 1930s, Rivera's jaguar knight was not only a reminder of the nation's pre-Columbian past but also an emblem of modern-day folk culture. In the late 19th and 20th centuries, jaguar costumes appeared in fighting competitions and folk dance performances in numerous Mexican states, including Guerrero, Oaxaca, Puebla, Chiapas, and Tabasco.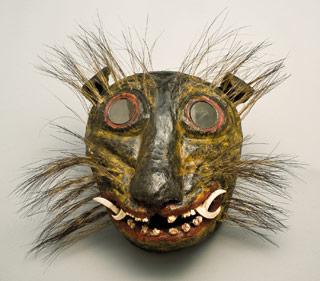 Anonymous. Jaguar mask. Mexican. 19th century. Glass, painted wood, animal teeth, and boar bristle, 13 x 12 x 7 1/2" (33 x 30.5 x 19.1 cm). San Antonio Museum of Art. The Nelson A. Rockefeller Mexican Folk Art Collection 85.98.642. Photograph courtesy the San Antonio Museum of Art