Electric Power
1931–32
Fresco on reinforced cement in a galvanized-steel framework, 58 1/16 x 94 1/8" (147.5 x 239 cm). Private collection, Mexico. © 2011 Banco de México Diego Rivera & Frida Kahlo Museums Trust, México, D.F./Artists Rights Society (ARS), New York. Photograph by Rafael Doniz
Situated below a view of New York City's jagged skyline, a steel-and-cement power plant interior dominates Electric Power's composition. Rivera peeled back his plant's facade to bring the workers—deep in the inner workings of its machinery—into the space of the viewer, exposing the human labor that powers the modern city. The work captures Rivera's excitement at witnessing industrialization in the United States firsthand. He retrospectively described his time in the U.S. in the early 1930s as a "crucial test," saying that "unlike Mexico, [it] was a truly industrial country such as I had originally envisioned as the ideal place for modern mural art."
In his autobiography, Rivera described the scene in the foreground of Electric Power as a boiler at a General Electric plant, but there were no G.E. plants in New York City at the time. The image is most likely inspired by the Hudson Avenue Power Station in Brooklyn, a branch of the Consolidated Edison energy company. In 1932, the site received four new boilers, which provided steam heat for millions of customers in Manhattan until early 2011.
Beyond New York, power production was a major topic in the U.S. news: the Federal Power Act was revised in 1930, and construction began on the Boulder Dam (now known as the Hoover Dam) in 1931. In his portable mural, Rivera both records a site visited during his trip to the city and demonstrates his keen awareness of current events in the country at large.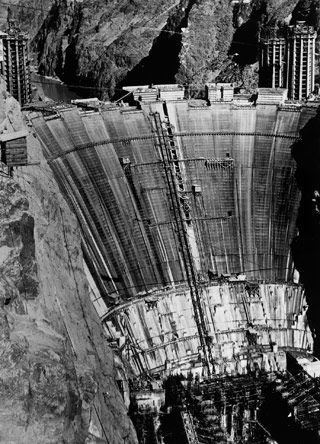 The Boulder Dam (now known as the Hoover Dam) under construction. c. 1934. Photograph by Popperfoto. Courtesy of Popperfoto/Getty Images
Inspired by the country's advanced industrialization, Rivera deployed machine-age imagery while in the United States to create visions of a technological utopia headed by workers. The laborers ensconced in a mechanical apparatus in Electric Power prefigure themes from his murals at the Detroit Institute of Arts, created after Rivera's MoMA exhibition. In his monumental fresco cycle in the DIA's Garden Court, factory workers operate in perfect synch with the rhythms of their mechanical surroundings.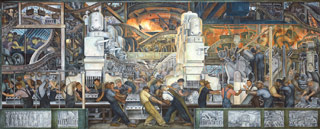 Diego Rivera. Production and Manufacture of Engine and Transmission from the mural cycle Detroit Industry. 1932–33. Fresco, approx. 17' 8 5/8" x 45' 1/4" (5.4 x 13.72 m). The Detroit Institute of Arts. © 2011 Banco de México Diego Rivera & Frida Kahlo Museums Trust, México, D.F./Artists Rights Society (ARS), New York. Photograph courtesy Detroit Institute of Arts, USA/The Bridgeman Art Library
The U.S. artist Charles Sheeler, a contemporary of Rivera, shared the Mexican artist's interest in industrial themes. Sheeler's crisp renderings of U.S. factories, influenced by his work as a photographer, celebrate the streamlined, efficient forms of modern industrial machinery. At the same time, Sheeler's paintings, devoid of workers, sharply contradict Rivera's insistence on picturing modern technology as controlled by human labor.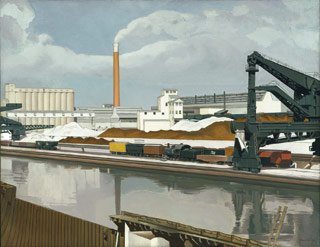 Charles Sheeler (American, 1883–1965). American Landscape. 1930. Oil on canvas, 24 x 31" (61 x 78.8 cm). The Museum of Modern Art, New York. Gift of Abby Aldrich Rockefeller. Photograph courtesy The Museum of Modern Art, Department of Imaging Services (John Wronn)
Electric Power created a stir among proponents of the U.S. electricity industry. The National Electric Light Association reproduced the work on the cover of its bulletin in February 1932, prompting an angry response from another magazine, Power Plant Engineering. The editors of the latter, Chicago-based journal took offense to what they described as a "crude and uncouth [...] example of so called modernistic art." Despite the artist's intentions, Rivera's image of power plant workers was not sufficiently heroic for some champions of electric power production.