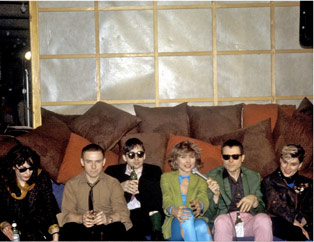 Marcia Resnick (American, born 1950). Glenn O'Brien's TV Party, NYC. 1980. Color photograph. 8 x 10". The Museum of Modern Art Library. Gift of the artist


About the Exhibition





In the early 1970s New York was a haven for young, renegade artists, many of whom doubled as musicians and poets. Art and music cross-fertilized with a vengeance, following a stripped-down, hard-edged, anti-establishment ethos. Some artists plastered city walls with self-designed posters or spray-painted monikers, while others commandeered abandoned buildings, turning vacant garages into makeshift theaters for Super 8 film screenings and raucous performances. Many found the experimental music scene more vital and conducive to their contrarian ideas than the handful of contemporary art galleries in the city. They formed bands, performing in clubs and then in nonprofit art galleries. They designed and published their own records and zines and used public-access cable as a venue for media experiments and cultural debates. By the late 1970s some of these artists had opened nightclubs, and by the early 1980s others had established galleries, largely located in the East Village.

This exhibition looks at the far-reaching and interconnected influence of artists and their musical and literary aspirations in the 1970s and early 1980s. It features photographers and magazines that assiduously documented the crossover between the music and art scenes of the time and highlights the harbingers of a new era of No Wave, hip-hop, house, and garage bands. These groups and activities coalesced at a time when New York, despite financial struggles, was an incubator of innovation. This time of phenomenal successes for a few artists and musicians marked the transition into a new, more commercial decade.





The exhibition is organized by Barbara London, Associate Curator, Department of Media and Performance Art.